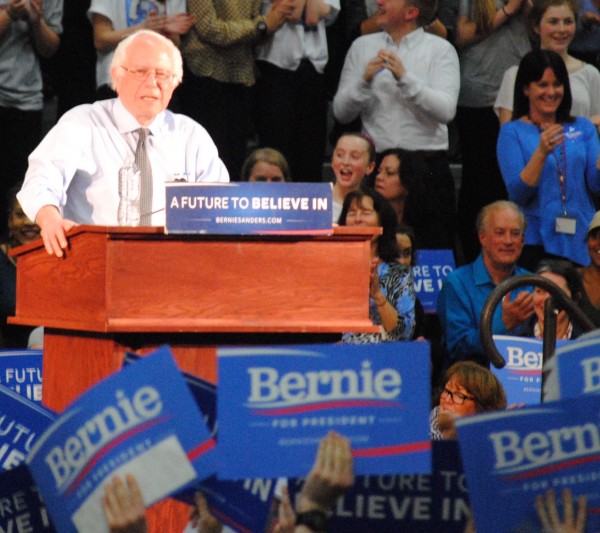 From the largest political rally in Rhode Island since JFK to the morning talk shows on the day after, I feel whiplash more than I feel the Bern.  But that is because most political pundits don't get the point of the political revolution Bernie Sanders articulates.  I need to get the Bern back.  And so do the people of Rhode Island, the people of the United States.
Yes it's about winning the Democracy Party nomination, and yes there is a narrow path to victory which depends on doing exceptionally well in the primaries tomorrow – in Maryland, Connecticut, Delaware, my ancestral home in Pennsylvania and my beloved home today in Rhode Island. But the potential for victory tomorrow is only part of the story. It is, as Bob Plain properly emphasized, about moving beyond the status quo. It's about the long haul and the power of truth.
The truth of Bernie Sanders is not just about his consistency over more than three decades.  His message about the injustice of inequality has been the same, unlike other conventional political candidates who move with the political winds.
It's not just about the fact that he speaks truth to power: his truth has not been shaped by the donations of the people he claims to challenge. His message is funded by donations of millions of everyday people.  Political favors are the coin of the realm, but his currency comes in popular support.  And that's the point.
I understand why so many of my friends support Secretary Clinton.  Like me, they also see that she is far better than Trump.  That's true. They also believe she can get things done. Certainly, but her pragmatism works within a system that is rigged, that is broken.  And that's more about compromise with the powerful than about the power of truth.
As Bernie said yesterday, as he does in each speech: our nation ought be judged not by our wealth and power but by how we treat those least privileged among us. With 40 percent of Providence's children living in poverty (and 20% of the children of our state – http://www.providencejournal.com/article/20150121/NEWS/301219986 ), with Pennsylvania and Rhode Island having the greatest percentage of structurally deficient bridges (http://www.governing.com/gov-data/transportation-infrastructure/bridge-data-by-state-inspections-structurally-deficient-totals.html), and the list could go on, we can't just get things done.  We need to make things right.
Bernie is not a typical politician. He will not always say the "politic" thing.  The reason everyday people #FeelTheBern is because he says things that you only hear in your sociology classes in university, and in sermons by those activists who are moved by the spirit of liberation theology.  I was with two of them yesterday in Roger Williams Park listening to Bernie.  They were moved.  We were moved. And we are not millennials.  But we each have been working for decades to teach about, and to change, the injustice of this system.   We have worked with social movements for decades to make a difference.  And that difference is on the horizon.
We need to learn from each social movement on which Bernie Sanders has built this political revolution.  Here are just a few.
The Civil Rights movement from the 1960s began with civil rights, but continues to build momentum through today to search for political, social and basic human rights too. Black Lives Matter is more than a name for that movement's expression today. It's about assuring that the police represent the community they police.  It's about assuring jobs and education, not jail and incarceration, for youth, as Bernie would say.  It's about rights, and it's about respect.
Respect is all over Bernie's campaign. His previous work in support of veterans is well known, but not because he is supported by a military industrial complex.  As he himself argues, we might differ about when to go to war and when not, but we cannot debate the support our veterans deserve given their service to our country.  His support for veterans and for the Black Lives Matter movements, simultaneously, indicates that this is not a conventional campaign.  This is a campaign that brings people together in recognition of the injustice that animates.
It's about the Occupy Movement too.  Too many think that movement failed, but they are wrong.  Thanks to them, we talk about the inequality and the 1% in politics, nobody more forcefully than Bernie.  That movement is no longer apparent in their occupation of city parks, but it is apparent in the heart of a political revolution that marks gross inequality as injustice and health care as a right for all.
That movement, of course, builds on the union movement in this country whose struggle for equality and a decent wage ought grow more vigorous with Bernie as president if history is any guide. Remember that America's union movement consolidated its gains with that radical Franklin Delano Roosevelt as president.
The environmental movement can readily work within the system, but the dangers of that accommodating view are apparent everyday as compromise leads incrementally toward planetary crisis. Bernie sets his sights differently from Hillary on principle, a difference most evident in their divergent approaches to fracking. Hillary is conditionally for it, but Bernie opposes it.  Period.
Evidence of the impact of different iterations of the feminist movement are apparent in Bernie's campaign, but I see it most fundamentally in his commitment to empowerment.  Injustice is not only in the system, but it's also in the ways inequality is expressed behind closed doors, in ways that some treat as religious or natural.  The political revolution is about pushing for equality in everyday life, by everyday people.  It's about empowerment.
Nowhere did Bernie express yesterday that right to everyday equality better than in declaring, simply, that people have the right to love whomever they want. LGBTQ people and their allies have made a revolution in this country already, even if reaction rears its ugly head. But love, in the end, might be too powerful to quash, especially when love and good business climates go together.
Love can make for strange bedfellows, and the image of Pope Francis and Bernie speaking in a hallway following a conference in the Vatican on the moral economy is one of them. But the fact that that seems strange is another sign of a broken and rigged system.  Part of love's power, and why it seems to animate Bernie's political revolution is because the golden rule – do unto others as one would have them do onto you – is enough for Bernie to express his religious sensibility.  And it's that kind of religiosity that extends solidarity rather than division.
Entrepreneurs might even Feel the Bern.  In fact, most entrepreneurs are likely to be in the category that will benefit most from the kind of health care reform Bernie advocates.  Instead of putting it on small business, embed those costs, as most advanced industrial nations do, in the government so that that public good does not fall on the shoulders of those who try to innovate. That was Bernie's message yesterday too.
"Yes, Yes, Yes, " you can hear Bernie say, "how am I going to pay for it?".  Not only does Bernie propose to tax income more progressively and wealth more aggressively, but he can also tax that part of the economy that has been getting away with money making scott free, or tax free.  Why not tax financial transactions? That's a growing part of the economy, and a source of increasing inequality simultaneously.  This IS about class struggle too.
I identify all these social movements that have shaped the presidential campaign of Bernie Sanders not only to illustrate that his prospects are based on his embrace of and learning from all sorts of progressive social movements.  It's also because his political revolution is a movement, and not a campaign. His goal is not only to win a nomination and election. His goal is to build a movement that not only changes the Democratic Party platform, but changes the way in which our economy, politics, and society are run.
That's why I may not be alone in feeling the whiplash.  When we enter the movement, we recognize the challenge, but we also feel solidarity and recognize the power of truth , the integrity that comes with naming the inequality and injustice that work to crush the soul of our people.  We can feel progress in the movement, because we can feel the spirit of so many people coming together under the banner of a truthfulness that politics dares not speak.  But when we listen to the pundits, they only tell us that Bernie cannot win the nomination in July.  They miss the point.
This is a political revolution that is not about July or a presidential campaign. It's about a movement for justice and equality.  That can't be won with an election, but it can be built by voting for Bernie.  And that is a small step toward the political revolution that we need in order to make America as it ought to be.
Voting in the Democratic Primary for Bernie Sanders is not about assuring he wins the nomination.  It's about assuring that we have a movement that can make a future we believe in. We need a vision that goes well beyond the status quo that is, fundamentally, unjust.  And that's the truth that may change America.  That's why people #FeelTheBern.
Bernie Sanders for Rhode Island

,