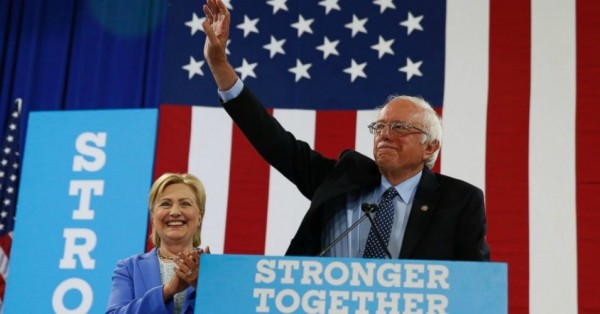 You may feel disappointed or embittered towards Bernie Sanders and his not-so-ringing endorsement of Hillary Clinton, which was more of a Bernie stump speech with the word "endorse" mentioned once and the name "Hillary" tacked on to policy statements. When he did endorse, she smiled, and he nodded somberly. And as saddening it is for this beautiful and inspiring campaign to virtually end with such an endorsement (though he has not, and will not, concede), we must remember the most important and admirable quality of Bernie Sanders as a candidate, and as a person.
He never goes back on his word.
He promised, early in the campaign, that he would support the eventual Democratic nominee should he not win. He has held true to that statement by endorsing Clinton. Yet, in spite of that endorsement, he has managed to hold true to his statement that he will take the fight all the way to the convention.
In a message to his delegates last night, Bernie said, "I am still officially a candidate. We are going to Philly. I did not and will not concede. I am not suspending my campaign. I hope we can get enough votes but she will likely be the nominee. When she is, I will come out of the convention and do everything I can to beat Donald Trump and I hope you will join me."
Beating Donald Trump has become imperative, yes, but not until the Democratic Party puts forth a truly progressive platform and recognizes the hard work and achievements of nearly 1900 Bernie Sanders delegates, 13 million Bernie Sanders voters, and hundreds of thousands of Bernie Sanders volunteers.
Now is not the time to abandon Bernie, or question his integrity. He is not acquiescing to the Democratic establishment, nor is he bowing to their demands. No, he's becoming a towering progressive leader for the entire nation. Unlike any other incumbent politician, he has maintained his promises both to the Democratic Party and to his supporters. He has not conceded, will not concede, and will not suspend his campaign. And I know he will hold true to those words.
Now is the time to believe in Bernie Sanders and what he, and we, can accomplish together. This movement was never about one man, or one presidential candidate. It was, and is, about inspiring millions of Americans to stand up and fight back against a corrupt and unjust political process. And, as stated at the end of one of Bernie's most inspiring ads about his volunteers, "keep fighting. The revolution has just begun."