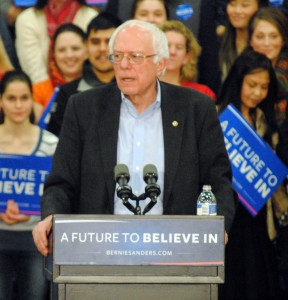 Bernie lost the Nevada caucuses.
So what?
Think of it this way: a baseball season is 162 games long. It is physically impossible to win every game. Sometimes you'll sweep your rival in a resounding victory (New Hampshire) of 22 percentage points, and sometimes you'll lose a close one that's a bit of a heartbreaker (Nevada) by 5 percentage points. It's those close losses that keep you hungry for the next win, and I'm convinced that Bernie still has momentum on his side because the polls indicate that he is still on the rise.
That's the most important thing to take away from Bernie's loss in Nevada; it was a close one, fought down to the wire, just like in Iowa, and considering Bernie's deficit in the polls just months ago, it could've been a come-from-behind win. But the difference between baseball and presidential nominations is that the runs you score in baseball don't matter if you lose. With the nomination process, those delegates still matter—and Bernie is now tied with Hillary Clinton in the pledged delegate count nationwide.
Yes, the superdelegates that Clinton took early in the race are still on her side. But for pledged delegates, Clinton and Sanders each have 51. The Sanders campaign must have faith that the superdelegates won't broker the election in Clinton's favor because they can't afford to split the party if Sanders takes the popular vote. In fact, what we're seeing is an eerie repeat of the 2008 Democratic nomination, in which President Obama took the popular vote despite Clinton's position as the establishment favorite. And in that nomination process, Clinton did everything she could to disparage Obama's message of hope and change, just like she is with Bernie right now.
Clinton claims that the United States is not a "single-issue country," a jab at Bernie and his focus on income inequality and getting big money out of politics. But something that Clinton hasn't mentioned is that income inequality is a seminal issue of many of the problems we face as a nation. When billionaires and their Super PACs influence politicians, the needs of the everyday Americans who voted for those politicians are not properly represented or addressed—instead, the needs of the party and its corporate donors are.
I have a friend who once told me that money is energy, and if that is true, then the billionaire class controls that energy. When that energy is controlled by a group of people who do not serve the best interests of everyday American people, then that "single issue" of income inequality becomes the bottleneck behind which all other important issues, even dire ones like climate change and our dependence on government-subsidized fossil fuels, are pent up and ignored. In that case, Bernie is right to be focusing on addressing income inequality and getting big money out of politics, and he is right to do so passionately, because creating more income equality and removing the influence big money in politics could allow our government to finally address the multitude of important issues that we face together as a nation. It is also our chance to end the Washington gridlock.
The trouble is that if Hillary Clinton knows this, then she doesn't act like it is a problem. But Sanders's message of addressing income inequality is his rallying cry to working class progressives, people that are pledging their votes to him, and he continues to gain in national polls. That is a direct threat to Clinton's candidacy, yet her campaign and the established party leaders don't act like it is. And an even bigger problem for the Democratic Party is that many Bernie supporters won't vote for Clinton on principle. Her candidacy represents a continuance of a destructive and exclusive political culture, whereas Sanders represents a divergence toward an inclusive and empowering political culture.
That's what Bernie supporters want to see, and that desire isn't going to fade. It will only grow.
After the Nevada caucuses, it is clear that Bernie's campaign isn't going away anytime soon. In fact, in a Quinnipiac University poll released on February 18, Bernie Sanders was favored as the Democrat who can defeat any GOP candidate in November by up to 10 percentage points. Hillary either ties with or trails nearly all GOP candidates. Not only that, but Bernie was also favored as the candidate that has the most integrity, who is honest and trustworthy, and who cares the most about the issues that his constituents face. That kind of favorability cannot be ignored, and it tells me two things: Bernie best represents his voters and has the best chance to win in November. Isn't that the best one can hope for in a Democratic candidate? Despite what headlines say about Bernie losing in Nevada and Hillary reclaiming the "front-runner" status, that poll sounds like a potential victory to me and many other supporters.
Like I said, it isn't about one game. It's about the whole season. And it's important for Bernie supporters to gain momentum from this loss because like any good team, a close loss to our rival gives us the fire and grit to go back out there and win. Right now, Bernie field organizers across the country are mobilizing volunteers to Get Out The Vote on Super Tuesday next week, and several groups of Rhode Island volunteers are working hard to help Bernie get a win in Massachusetts. We plan to be there throughout the weekend up until Tuesday, making calls and knocking on doors.
I invite you to join us.