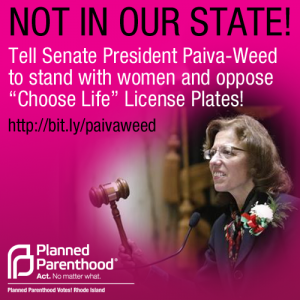 "Rhode Island legislators must be confused," wrote Paula Hodges, of Planned Parenthood, in an email to supporters over the weekend.  "They must think they live in Texas, Arkansas or Wisconsin by pushing for a vote on last minute anti-choice legislation."
The Senate, Hodges wrote, will vote on a bill today that would use public funds for  anti-abortion license plates would help fund anti-choice efforts.
Here's what Steve Ahlquist wrote about the bill in May:
…the government will be assisting the [Knights of Columbus] in its fundraising efforts that seek to prevent women from accessing safe and legal abortions, which the KoC does on purely religious grounds. At the point this bill becomes a reality, the "non-government funded programs" run by the KoC will in truth be at least partially government funded, a clear violation of the separation of church and state.
And here's the full email from Planned Parenthood:
The state legislature said their top priority was fixing the economy and helping put Rhode Islanders back to work.  But in the final hours of legislative session they are fast tracking a bill that would play politics with women's reproductive health.  We need you to tell them ENOUGH IS ENOUGH.

The state Senate is moving a so-called "Choose Life" license plate bill on Monday that would use taxpayer dollars to support a Knights of Columbus license plate program that would fund crisis pregnancy centers and anti-choice organizations.

Rather than spending scarce resources on political statements about abortion, the state of Rhode Island should invest in preventive reproductive health services and sex education.  Rhode Island can and should do better at preventing unintended pregnancy and funding reproductive health coverage for low income families.

Contact Senate President Paiva-Weed and House Speaker Fox and tell them these bills don't belong in our state! 

Then Join us Tuesday afternoon at 3:30 at the State House for a legislative day of action and wear pink to stand in solidarity with Planned Parenthood Votes Rhode Island.  

Keep sending the message these bills don't belong in our state!

Your voice matters.  Your advocacy matters.