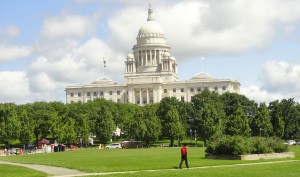 Last week's budget debate in the House was inspiring, although the horse-trading and the outcome were disappointing. Normally the budget sails through the House; no one wants to risk the wrath of the House leadership by opposing it. It really takes guts to go against the grain; those doing so risk the loss of significant committee memberships, sponsored legislation, etc.
This year was different.
In total, 20 representatives voted against the budget, almost enough to defeat it (the vote was 52Y-20N-3NotVoting; 2/3 are needed for passage). Reps. Chippendale, MacBeth, O'Grady, Tanzi, Tomasso, Valencia and many others voted 'nay'; look here for the complete voting record. [Disclosure: I ran against Rep. MacBeth in 2012.]  Possible backlash from the leadership includes the sinking of Valencia's voter ID bill.
Also on the less-than-inspiring side there was still significant back-room horse-trading going on. It looked like there were enough votes to kill the budget two days before debate began. However, things then started to change. Leadership started to throw goodies to representatives in exchange for their votes.
In particular, note that tolling on the new Sakonnet bridge is now supposed to be postponed for months, mainly at the behest of East Bay and Northern Aquidneck representatives. The toll for a typical commuter was to be $0.75 one-way; this is much less than a $2.00 RIPTA bus ticket on any route. And for this alleged-deal a bad budget for the whole state passed the House. (There are other arguments both for and against the tolling.)
There were good speeches on both sides of the most-discussed issue, 38 Studios bonds repayment; most of the well-known pros and cons were discussed, and then some. There were other good reasons given for 'nay' votes, including built in structural deficits in succeeding budgets and inadequate contributions to the state pension fund in the case of lower than projected investment returns.
Other problems with this and other recent budgets: cuts are made on the backs of those voters least able to absorb them; RIPTA is inadequately funded; and little is provided to fix and maintain the state's decrepit infrastructure. Rhode Island needs more revenue, spelled: "t-a-x-e-s." There were two bills this year which would have partially-reversed the tax reductions for the wealthy that were granted over the last 15 years; the reductions hurt our economy, they didn't help it.
While this year's budget got some serious attention at the very end of the session, the public and most of the House still had little to say about it; it was business as usual. The House budget proposal should really be presented weeks if not months before the session's end.
Probably the worst characteristic of the budget this year has little to do with 38 Studios or tolling: Rhode Island still does not have a credible policy to fix its economy.