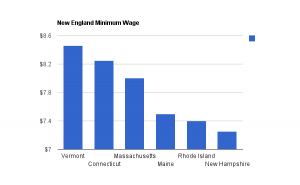 You'll often hear the mantra that Rhode Island has one of the highest tax rates in New England. Well, on the other side of economic spectrum, we also have the second lowest minimum wage in New England.
But Rep. David Bennett, D-Warwick, sponsored a bill that would raise Rhode Island's minimum wage from $7.40 to $7.75. It will be heard by the House Labor Committee tonight after the regular session.
"You try living on that," Bennett said. "You can't do it."
While the increase would only mean another $14 a week for employees making the minimum wage, annually that is enough to make a mortgage or rent payment. Or at least pay some utility bills.
Still, the increase would only put Rhode Island at the second lowest rate in New England. Currently, only New Hampshire has a lower minimum wage at $7.25 and the proposed increase would vault RI ahead of Maine, which has a minimum wage of $7.50. Vermont has the highest minimum wage in New England at $8.46.
"If someone can make an extra dollar an hour by taking a similar job in Vermont," Bennett said, "they might just do that."
Nationally, Rhode Island falls right in the middle of the pack with the 26th lowest minimum wage in the country. Most of the state that have a lower minimum wage are in the midwest, where the cost of living is much lower than on the coasts. New Jersey and Maryland both have a minimum wage of $7.25, which is the lowest it can be according to federal law.
If the bill becomes law, Rhode Island's minimum wage would increase annually starting in 2014 in conjunction with the Northeast Consumer Price Index.