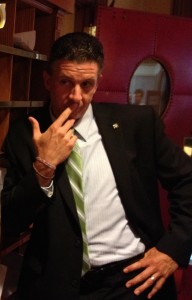 It turns out what may have been Jon Brien's best chance to remain a state representative might have been decided in Utah earlier this summer.
Brien held a press conference today claiming that Steve Casey, the Woonsocket fire fighter who beat him in the Democratic primary, was ineligible for public office by way of the Hatch Act, the law that prevents federal employees from running for office. But according to an article from the Salt Lake Tribune a similar complaint was dismissed in Utah earlier this summer.
A federal review has cleared Unified Fire Authority Chief Michael Jensen to run for a fourth term on the Salt Lake County Council.

The U.S. Office of Special Counsel last week rejected a complaint by Utah Democrats that Republican Jensen's re-election bid violated the federal Hatch Act. That law bars government employees who oversee federal funds (or are paid with them) from seeking or holding partisan elected offices.
Brien said the Utah case isn't applicable because Casey, he thinks, directly benefited from a $300,000 federal Homeland Security grant used for training.
Still, Brien's legal opinion on this one might just be biased. Others say he is stretching the Hatch Act beyond its logical conclusion.
"By the logic of the soon-to-be-former representative no state or municipal worker in the country would ever be able to run for office," said Bob Walsh, of the NEA-RI. "He didn't raise this question when he was confident he was going to win the primary."
Brien, for his part, said he didn't know about the Hatch Act until Monday, when Lou Raptakis, who brought a similar complaint against a fire fighter he defeated in a primary, shared the information with him.
But Brien may want to be careful about just how stringent he wants to the Hatch Act to be applied. He serves as the city prosecutor for both Woonsocket and Central Falls. Woonsocket pays him $18,000 a year and Central Falls pays him $24,000.
He said because he is paid as a independent contractor, he isn't constrained by the Hatch Act.
"I have no conflict whatsoever," Brien told me. "I don't fit the definition of an employee. It's not a technicality, it's a condition of the U.S. tax code."
Hatch Act Accusation Doesn't Hold Water

,