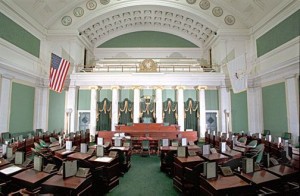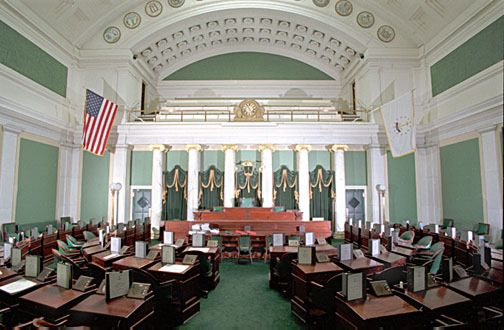 Over at GoLocalProv, Dan Lawlor suggests beefing up the General Assembly from it's current numbers of 113 to… many more. Essentially, Mr. Lawlor is pointing to the model of New Hampshire; hyper-local legislators. The goal would be to make the amount of people one represents so small as to allow legislators to swiftly respond to the needs of their constituents, if I've summed it up correctly.
I somewhat agree, in that have a greater amount of representation is a good thing. But I think we can achieve both the goal of increasing the legislator-to-constituent ratio and at the same time increase government effectiveness by doing something somewhat more radical: eliminate the Senate and combine its members with those of the House to form a single legislature, which can simply remain the General Assembly.
Think about what little sense it makes that Rhode Island even has two chambers. It's not like Senators represent each municipality. Then there would be 39 of them, and the urban areas would be vastly underrepresented. Indeed, if we look at the history of the General Assembly, the Senate has been the body slower to change. It was the body that was the last vestige of the Republican Party's corrupt power until T. F. Green's Bloodless Revolution handed total control of the state legislature to the Democrats. Even today, interestingly enough, it harbors a greater ratio of Republicans-to-Democrats than the House does.
While some could argue this would merely be a ploy to get gay marriage passed, that seems ridiculously short-sighted. The only constant is change, so it's said, even in a state with 75-plus years of Democratic Party rule (interrupted by a few Republican governors who in no way could possibly be at any fault for the direction of the state). It is not inconceivable that someday a political organization will come along that will convincingly critique the power of the Democrats while also holding popular positions. That organization is, of course, not the Republican Party; their positions are not popular nor are their critiques convincing (consisting of mainly "Vote for me because I'm not that guy!"). But someone will eventually get their act together, and Rhode Island is ripe enough fruit for the motivated and organized. And I may very well not like that.
The other thing this would do is end the end of session horse-trading that goes on between Senate and House. If you don't follow General Assembly politics, this might be a bit shocking, but just because both chambers are ruled by Democrats does not mean they get along very well. There is often enough a lot of trading of bills and legislation between House and Senate, often with the threat that a budget will not be passed. Thus you may support a perfectly good bill, but if leadership of one of the chambers doesn't, it may never cross over to the other side. It's both a testament to the effectiveness of the RI Democratic Party, and to its factionalism that this system functions… such as it does.
So, in effect, this would create a unicameral system, with the Speaker or someone taking the place as the Governor's opposite number in the legislature (a sort of Prime Minister of Rhode Island, though that would be an inappropriate grandiose title). Government would streamline (no more two committees for every piece of legislation). Perhaps, given that observers are expecting a handing over of power in the next session or so, this might be the time to do it. Of course, in no way will our General Assembly act speedily enough to do that; nor, do I think, Senators would really want to be added to a single chamber. Furthermore, I probably just sunk the idea by advocating for it, but it's a blog, so I'll deal with that.