Setting up my camera at Monday night's Burrillville Planning Board meeting, I saw one of the town's two lawyers, Michael McElroy, turn suddenly from his place on stage and wave enthusiastically and with a smile at some friends who had just arrived. Turning, I noticed that the arriving friends were the lawyers and expert witnesses from Invenergy. The small cadre of Invenergy lawyers waved back collegially and I thought, "Who represents the people of Burrillville here?"
The meeting was held at the Burrillville High School, and was four hours long. The meeting did not end. Invenergy still had expert witness testimony to present, and 30 Burrillville residents had signed up to testify, only to never get their chance to speak. In the end, a decision was made by planning board chairman Jeffry Partington to continue the meeting on July 11.
This meeting was held to discuss Invenergy's proposed fracked gas and diesel oil burning power plant. The Town of Burrillville and Invenergy had both hired experts to delve into the power plant's plans and provide opinions as to whether or not the power plant would be able to control for such issues as air quality, water use and quality, noise levels, traffic and wetlands impact. The sometimes technical details were presented in a way that could be generally understood by a layman, and both the planning board and Invenergy's lawyers were able to ask questions.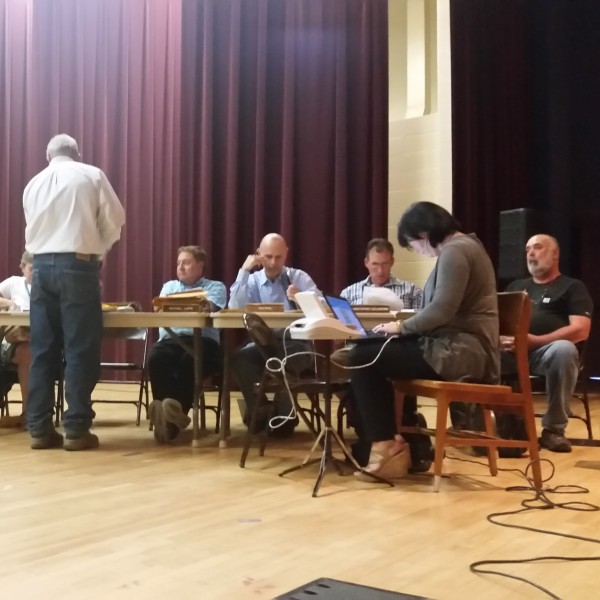 Before the meeting got started though, the planning board dealt with correspondence from Barry Craig, a retired lawyer recently returned to Burrillville. Craig had filed a motion to have the town's lawyer, Oleg Nikolyszyn, recuse himself because of allegations that he and the town council had violated the open meetings act when issuing a resolution last week, a resolution that many feel gave the Senate Judiciary Committee in the RI General Assembly the excuse it needed to vote down legislation that would have vastly improved the town's position regarding the power plant.
Before Craig could rise to speak, it was learned that Nikolyszyn had in fact recused himself from the proceedings, hence Michael McElroy's appearance at the hearing, waving to his buddies from Invenergy.
The town called its expert witnesses to give their reports and answer questions from both the planning board and Invenergy's lawyer, Elizabeth Noonan.
David Hessler discussed the noise the plant would emit during operations. The noise ordinance in Burrillville establishes a very low goal of 43 decibels, a goal Invenergy says it will be able to reach. Though Hessler says he is "leery of [Invenergy's assumptions in their model" regarding operating noise levels, he is confident that "Invenergy will do whatever they have to, to meet the limits].
"It may be difficult and it may be expensive," Hessler cautioned, adding, "I think it can be done."
Later Hessler admitted that he had "never seen a power plant meet the noise levels" but reiterated that he thinks this plant can be designed to do so.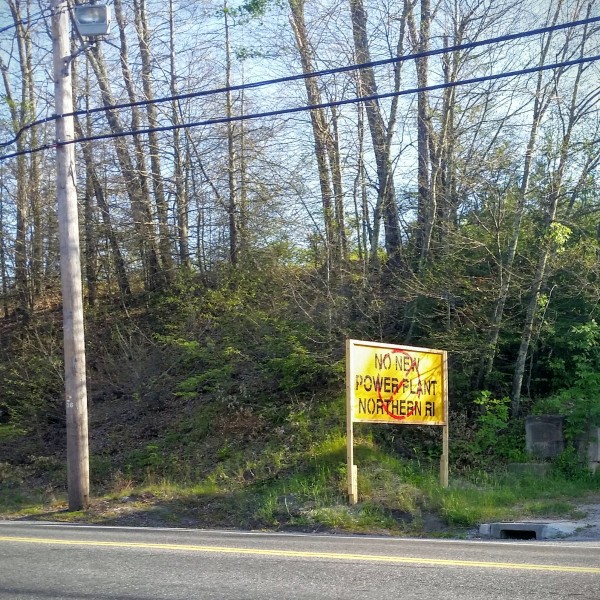 As loud as the power plant might be under normal operating conditions, it will be louder during start up and shutdown. When asked about Invenergy's estimates about how long start ups and shutdowns take, Hessler said that Invenergy's estimate of 10-30 minutes is "too short. There's no way," and said "I would not trust [Invenergy's] numbers."
Eric Epiner was up next, talking about air quality. Power plants like the one proposed for Burrillville are designed to fire pollutants through extremely tall stacks and released high into the atmosphere. Spinner expects that the impact on local air quality will be insignificant. However, the power plant plans Invenergy has submitted so far contain numerous errors and inconsistencies, as well as missing documentation. "We can't say with certainty what the health risks are," said Epiner.
The pollution from this plant, says Epiner, will not fall on Burrillville, but on people fifty kilometers away.
Tom Hevner was then questioned about the 40,000 gallons of ammonia to be stored on site. Invenergy's plans call for 19 percent concentrations of ammonia, because 20 percent requires federal oversight. Ammonia, when released into the air, is extremely deadly, whether the concentration is 20 or 19 percent.
Hefner recommended that the Pascoag Fire Department be consulted on how to deal with such chemicals should they be stored on site, and also suggested that there may be other, less hazardous chemicals that Invenergy might use instead.
James Jackson was called upon to discuss the impact the new power plant will have on traffic in Burrillville, especially during the plant's construction. He seemed to think that the impact would be minimal.
Jackson also spoke on the impact the plant might have on nearby wetlands. Right now water run-off from the plant is designed to be put in a pool that will directly abut the wetlands. Jackson said that the storm water run-off issues were not clearly resolved in the plans. The plan seems to call for storing toxic waste water next to a protected ecosystem. "I just don't feel comfortable with this," said Jackson.
Tom Hevner was brought back to talk about water use and the re-opening of well 3A, the well shut down 15 years ago by court order, due to MTBE contamination. MTBE is highly carcinogenic and Burrillville has paid a heavy cost because of this. Invenergy wants to use this water to cool their plant, promising to purify the water before it's sent to a waste water treatment facility.
The "treatment scheme" says Hevner, is to draw water out of the well that will be contaminated at a rate of 55 parts per billion with MTBE. Due to condensation, that number will be 200 parts per billion by the time it reaches the power plant. There the water will be run through two Granulated Activated Carbon (GAC) filters (though Hevner recommends three GACs) at which point the MTBE should be at "non-detect" levels.
The danger is not in Invenrgy's water purification system, which Hevner seems to think will work, the danger is back at the well, where pulling water out of the well "might draw back contaminants" that have leeched into the surrounding area underground.
Since the MTBE disaster in Pacoag, Burrillville has been buying its water from Harrisville, across the Clear River. The river acts as a barrier between the two water sources, but, says Hevner, it "needs to be demonstrated that there's no hydraulic connection" between Harrisville and Pascoag's water sources. Other wise, there's a danger that reopening well 3A might contaminate Harrisville's water with MTBE.
Hefner also thought that the well won't provide sufficient water for the energy plant, which will need to draw millions of gallons a day. Hefner suggested that the plant might need to draw water from other nearby municipalities, like Harrisville, or even start drawing water from Wallum Lake. This suggestion certainly agitated the crowd.
After a break, Invenergy called their witnesses. Invenergy's lawyer, Elizabeth Noonan, could not get all her testimony done before 10pm, so after much deliberation it was decided to continue the meeting on Monday, July 11 at 6pm at the Burrillville High School.
To be continued…
Experts testify on how power plant will impact Burrillville

,