A grassroots coalition, No Pipeline Expansion (NOPE), stated in a press release issued last Friday that the Department of Energy's (DOE) approval of Pieridae's Goldboro liquefied natural gas (LNG) export terminal in Nova Scotia, Canada confirms their position that natural gas from Spectra Energy's northeast pipeline expansions will be shipped overseas.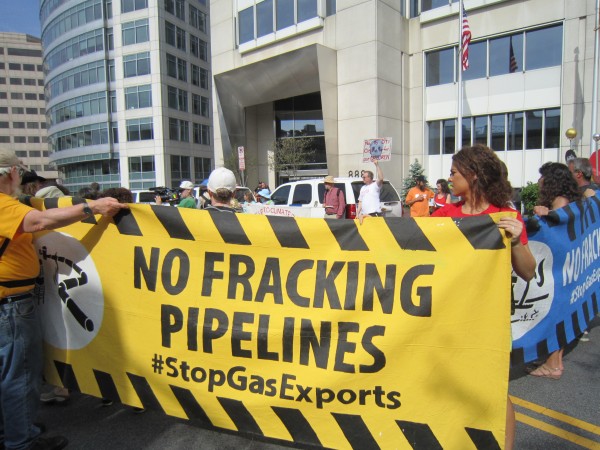 According to the Goldboro LNG website, the Pieridae "facility is located adjacent to the Maritimes & Northeast Pipeline, a 1,400-kilometre transmission pipeline system built to transport natural gas between developments in Nova Scotia, Atlantic Canada and the northeastern United States."  The Spectra Maritimes & Northeast pipeline connects directly to the Spectra Algonquin pipeline in Beverly, MA. Exports by Spectra, assisted by the proposed Kinder Morgan greenfield pipeline and Peabody lateral, could feed most of Pieridae's needs for gas.
The Federal Energy Regulatory Commission (FERC) approved the Spectra Algonquin Incremental Market (AIM) Project, the first of three proposed Spectra expansions on the same line, on March 3, 2015. FERC's Certificate of Public Convenience and Necessity for the project insists that the gas will not be exported, but the approval of the Pieridae project and the statements by the Canadian company reveal the true reason for the huge expansion. "FERC, a Commission funded by fees from the gas and oil industry, has obviously rubber stamped a project that will negatively impact Americans to benefit foreign nations and private corporations," said Susan Van Dolsen of NOPE. "Many of us raised the issue of export to FERC during the public comment period, but we were told that the expansion was strictly for domestic use. We knew otherwise and this proves we were right."
Last week, citizens from many states across the country gathered to protest FERC's rubber stamping and undemocratic processes. #FERCus protestors, as they call themselves, include residents of communities along the AIM route who demand that their health and well-being should not be sacrificed for corporate profit and foreign customers. The protestors also oppose FERC's approval of the Cove Point LNG export facility in Maryland. Beyond Extreme Energy, qualmless organizer Jimmy Betts said: "The bullying and deceptive tactics of how fracked gas infrastructure projects, like LNG export terminals, are permitted for private profits at the expense of our planet's water, soil, air, climate, and human and natural rights, should be reason enough to question and ultimately block these devastating fossil fuel follies."
The NOPE coalition is made up of grassroots organizations in the four states along the AIM route: New York, Connecticut, Rhode Island and Massachusetts. After issuance of the FERC Certificate, the coalition filed a Request for Rehearing with FERC on April 2, 2015, raising many serious issues including impermissible segmentation, overbuilding and significant risks to health and safety of communities along the route. FERC issued a tolling order on May 1, 2015, which means the rehearing requests are in limbo. Meanwhile, Spectra Energy began moving forward with preparations to begin construction on the project, despite massive resistance from residents and opposition from many elected officials.
Of particular concern is the new 42 inch diameter high pressure segment of pipeline that is proposed to cross the Hudson River, making landfall in Cortlandt, NY adjacent to the aging Indian Point nuclear power plant and two seismic zones. Pipeline expert Rick Kuprewicz and nuclear expert Paul Blanch have called for an independent risk assessment of the siting of the pipeline next to a nuclear power facility in a densely populated area that includes the largest city in the country. They maintain that the evaluation done by the plant's operator, Entergy, and confirmed by the Nuclear Regulatory Commission, was inadequate and seriously underestimated the risks.
Furthermore, a new lateral proposed in West Roxbury, MA, would run dangerously near to an active quarry; the City of Boston, Congressman Stephen Lynch, and other elected officials have called for a health and safety review.
The Spectra proposals, called AIM, Atlantic Bridge, and Access Northeast, would significantly increase the volume of fracked gas being transported from the Marcellus Shale through New England, and ultimately send it through the Maritimes & Northeast pipeline to the Goldboro export facility. The NOPE coalition objects to the projects for many reasons, including the risks mentioned above, as well as upstream effects on communities where fracking is occurring and the increase in fugitive methane emissions that contribute to climate change. In addition, ratepayers may bear the costs. "It is a fact that more than half of all the fracked gas moved across Connecticut will be destined for export, according to the US DOE. Yet, our State Senate just voted to force the cost of constructing and operating fracked gas pipelines onto ratepayers. In other words, the customer will pay so that energy companies can export fracked gas and make four times the profit available to them domestically," says Martha Klein, Sierra Club Connecticut Chapter Communications Chair. NOPE is outraged that FERC is placing local communities and the global climate at risk for the benefit of foreign nations and corporate profit.
It has been known for a long time that natural gas was meant for export. The American Gas Reporter had a cover story in May of 2013 that by 2017 "U.S. gas imports from eastern Canada will have completely flipped to exports."  Members of our political class have been rather slow in understanding how they are being used by energy industry insiders.  It took 16 U.S. Senators until February of this year to express concern about the pace at which the U.S. Department of Energy is approving natural gas exports "at the expense of households and industries that will suffer from higher natural gas and electricity prices."
Governor Gina Raimondo, who enjoys the support of donors from Wall Street firms such as Goldman Sachs, Bain Capital and JPMorgan Chase, supports the AIM pipeline expansion project.  Blanking on exports, she said in a press release of April of this year:
I am committed to moving ahead with cost-effective, regional energy infrastructure projects – including expansion of natural gas capacity – that will improve our business climate and create new opportunities for Ocean State workers.
Of course all these politicians agree that it is necessary to destroy the global climate to save the local economy.