Sixty people quickly filled the small meeting room, and when the librarian stopped letting in, between two and three times that number were forced to idle in in the parking lot, listen in through the window screens, or leave in frustration.
Kathy Martley of BASE (Burrillville Against Spectra Expansion) had invited Representative Cale Keable and State Senator Paul Fogarty to meet with their constituents at the Jesse M. Smith Memorial Library in Harrisville to discuss what can be done about Invenergy's Clear River Energy Center, a new gas and oil burning energy plant currently planned for the Town of Burrillville. The turnout exceeded everyone's expectations.
Senator Fogarty set the tone early on, saying that there's "not a lot the General Assembly can do about [the power plant]." Claiming that he hasn't yet made up his mind, Fogarty said, "I'm not here to stop the power plant, but I'm not here to put  a shovel in the ground [either]."
Rep Keable agreed, saying that the General Assembly has no control over the EFSB (Energy Facilities Siting Board), the political body tasked with determining the fate of the planned power plant, while acknowledging that "There'a a lot of anger out there."
In many ways I was reminded of the first Burrillville Town Council meeting I attended back in October, when council members claimed to be powerless against the power plant.
The Town Council recommended contacting Governor Gina Raimondo or State Representative Cale Keable. Now here was Rep Keable and Senator Fogarty, telling residents that, "It comes down to a local issue." Keable and Fogarty recommend taking it up with the Town Council.
A man stands and tells his state representatives that this isn't good enough. "The answer is 'no.' We don't want the power plant," he says, "We want you," said the man, pointing to Keable and Fogarty, "to help us do this. We want you to talk to the Town Council. When there are meetings we want you to be our advocate there…
"There's going to be a block of people, believe me, standing against this power plant. It's going to be a movement."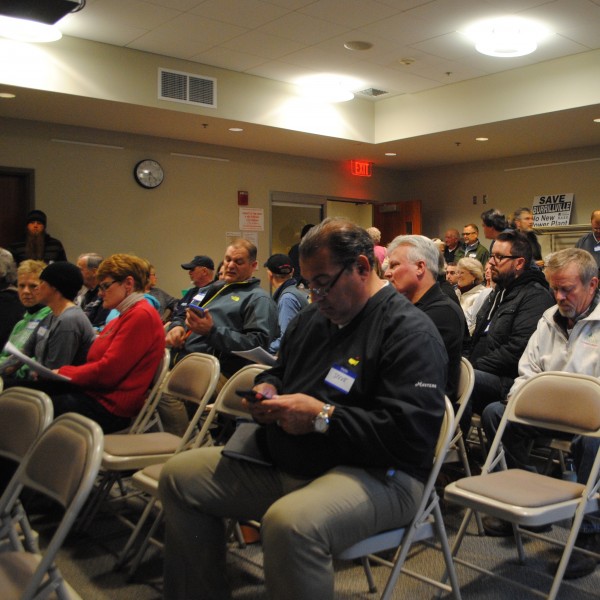 Burrillville has a history with large corporate projects like this ruining their town. Some well water in town is poisoned with MBTE from an Exxon gas station leak. One woman stood and said that three members of her family contracted cancer during that time. Her property abutted the land used to build the Ocean State Power Plant. She sold her home and moved, only to find that Invenergy wants to build its power plant in her front yard. She wonders about the toxins the plants pollution will rain on her property and into her air and water. "Our property values are already going down. What help are we going to have?
"Am I going to have to wait until my grand kids come down with cancer? Or my busband or my children still living at home? Because that's what happened to my niece, her husband and her daughter."
The new power plant will have little to no effect on Burrillville's electric rates. There are few positives on offer: Some jobs, some tax relief, and a plan to clean the water contaminated with MBTE. The negatives are declining property values, pollution in both air and water, and a degradation of Burrillville's pristine natural environment.
On Thursday night the people of Burrillville will have their first chance to bring their concerns to the EFSB. If tonight's informal meeting is any indication, that meeting ought to be very interesting.
Full video of the meeting can be viewed here:
Burrillville state reps in the hot seat over Invenergy power plant

,