At the most recent Burrillville Town Council meeting, Council President John Pacheco said that "As a town council, we did not know this plant was actually going to happen until the Governor announced it."
Pacheco was not quite telling the truth.
Videos from February and March 2015 town council meetings show that local elected officials – both the council and legislators – have been paving the way for the controversial Invenergy power plant for months before Governor Gina Raimondo officially announced the project, contrary to recent statements by the Council President.
Governor Gina Raimondo announced Invenergy's plans to build another power plant in Burrillville on August 4, 2015. The town council met with local legislators Paul Fogarty, Cale Keable and Brian Newberry to discuss the idea seven months earlier.
On February 23, 2015 Burrillville Town Manager Michael C Wood, at a "special meeting" of the town council, said, "We've had some conversation. There's the potential for a new power plant to come to Burrillville." Present at this meeting was the entire Town Council except for Stephen Rawson and Donald Fox.
This special meeting was between the town council and state Senator Paul Fogarty, Representative Cale Keable, and Representative Brian Newberry. The meeting was held to discuss state level legislation of interest to the town council with their state representatives.
Wood told the council and legislators he wanted to "make sure that the existing [state level] legislation we have will allow for the siting and construction of the new power plant in the town." The legislation concerns Burrillville's ability to enter into tax agreements with power companies and can be seen here.
"It would be appreciated, Cale," said Wood, talking to Rep Keable directly, "making sure that that legislation, as written, will allow the town to potentially entertain the possibility of a new power plant."
"Okay," said Keable, "We'll look at that."
As can be seen from this screen shot from earlier in the video, this meeting was poorly attended.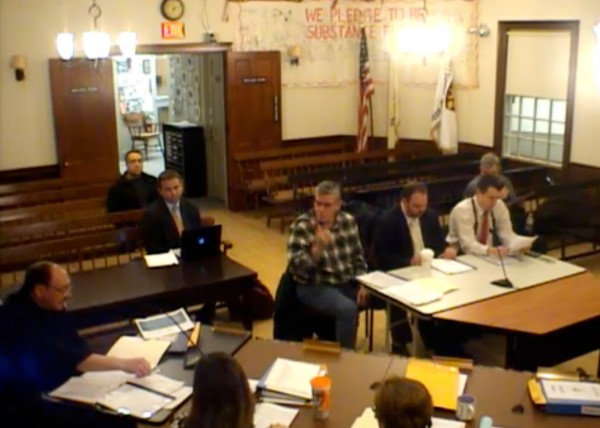 At another "special meeting" on March 18, 2015, Town Councilor Stephen Rawson talked about Burrillville water contaminated with MTBE. Several years ago some of the well water in Burrillville was contaminated with MTBE, a virulent carcinogen that some residents say sparked a cancer cluster in the town. The water that Invenergy wants to use for its cooling system will come from this MTBE contaminated well water.
Though Invenergy claims the water will be filtered and the water will be pure enough to dump in the Clear River when they are done, no one seems quite sure if the science adds up. Note also that as far as I have been able to tell, no one has attempted to use MTBE contaminated water to cool a power plant before.
In the clip below, Rawson says that, "Years ago Mike [Town Manager Michael Wood] had tried to make a proposal, and it was a good one, to run that water up to the [Ocean State] power plant as cooling water so the wells would be flushed and probably get rid of the MTBE that's in the ground water."
Rawson notes that Harrisville, which has authority over this situation, blocked this proposal.
Town Councillor David Place then says to Wood, "you and I had that discussion with that new power plant going in, of bringing back that idea of running a line to the new power plant and doing the exact same thing when that new power plant comes in. I think you said that that discussion had come up."
"They have already reached out to Mike Kirkwood [General Manager of the Pascoag Utility District]," said Wood, "I don't know about Harrisville…"
"They shouldn't be involved at all," said Place, because the wells and siting of the power plant will be entirely inside Burrillville, and Harrisville will have no control over the decision.
"To get to your point, Steve," continued Wood, addressing Rawson, "that probably will happen, and that will help the well situation…"
Later in the same meeting Town Manager Wood says, "We need to set up something, maybe not right now, to deal with the new power plant… some professional help… to negotiate a deal with them."
"How soon is that going to be done?" asks Council President John Pacheco.
"Not right away," answers Wood, "But it should be on our radar screen. Probably within a year."
"I'm sorry," says a female town councilor (either Kimberly Brissette Brown or Michelle Bouchard), "What power plant are you talking about?"
"Invenergy," answers Wood, spelling it out for clarification. "I-N-V-E-N-E-R-G-Y."
The discussion then turns to the protesters who walked 28 miles, from Burrillville to Providence, in protest of the expansion of the compressor station in Burrillville. Wood laughs when he is asked, "Did those protesters ever make it to Providence?"
Contrary to Council President John Pacheco's statement last week, the videos make clear that not only was the town council, as a whole, aware that Invenergy was planning to build a power plant in Burrillville, they have been actively involved with the project for months prior to its public announcement.
It also appears that Town Manager Michael Wood suggested the idea of using the MTBE contaminated water to cool the plant, one of the most controversial and potentially dangerous aspects of the plan. If the water isn't filtered properly or cannot be filtered, dangerous levels of MTBE water will be dumped into the Clear River or released as airborne steam, potentially threatening the health and safety of thousands of Rhode Islanders.
At no time is the idea of not bringing the new power plant to Burrillville discussed by the Town Council. The idea of opposing the plant never seems to have occurred to them.
Many voters in Burrillville are aware of these videos and their faith in their Town Council and state representatives has been severely challenged or even shattered.
Burrillville Town Council knew about power plant plans in February 2015

,