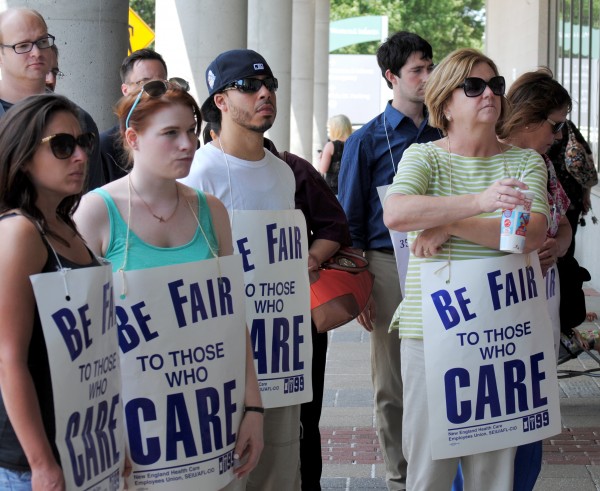 As newly unionized Butler Hospital employees negotiate their first contract with management, they are staging a picket today in front of the state's only full-service psychiatric and substance abuse facility. The action is scheduled for 4pm, 345 Blackstone Boulevard in Providence.
"If Care New England can afford to spend $20 million on management consultants and to pay their CEO Dennis Keefe $1.4 million/year, they can find a way to reach a fair agreement with their employees," according to a news release from SEIU 1199SE, the labor union that represents Butler employees. "Instead, they're putting corporate greed ahead of staff and patients."
SEIU says the staffing levels at Butler are too low, putting employees safety in jeopardy.
Care New England is the parent company of Butler Hospital. CNE was recently acquired by Southcoast Health Systems, of Massachusetts. "Combined, our two systems would comprise an eight-hospital, $2 billion-plus entity with more than 15,000 employees," Southcoast executives said in a letter, according to the Boston Business Journal.
The new company is slated to be called Newco Health Systems and will be located in Deleware, although its assets will be in Rhode Island and Massachusetts. The Rhode Island Department of Health recently denied Care New England's request for an expedited merger with Southcoast.
Butler employees say staffing levels are unsafe, picket today

,