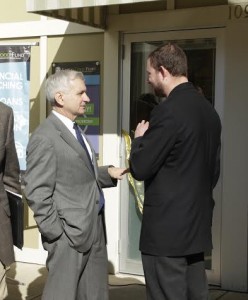 The Capital Good Fund won a $125,000 Community Development Financial Institutions grant thanks to Senator Jack Reed, who helped secure the funding for both this grant and the entire CDFI program.
"This funding will help us as we work to put the bad guys out of business and ensure a level playing field for all," said Andy Posner, CEO of the lending and financial services nonprofit. Capital Good Fund is one of the few institutions that offers a non-predatory alternative to pay-day loans.
It "will allow us to expand our one-on-one Financial and Health Coaching and innovative, small personal loans, to hundreds of Rhode Island families in the coming year," he added.
Reed wrote a letter on behalf of CGF's grant application, and as a member of the Appropriations Committee, helped secure the funding for the overall program that helps, according to Reed's office, helps "leverage private sector investment in community development projects like affordable housing, retail development, and lending to small businesses."
Reed said in a statement: "As micro-lenders, they help empower low-income families to secure the financial support and credit they need to get ahead. This federal grant is a smart investment in fostering economic opportunity and community growth."
Posner added, "As Rhode Islanders continue to struggle to emerge from the recession, the need for access to affordable credit and financial counseling remains strong. At the same time, predatory financial services, including payday loans and rent-to-own stores, drain millions of dollars from the pockets of working families."
According to its website, Capital Good Fund "mission is to provide equitable financial services that create pathways out of poverty. Recognizing the endemic nature of American poverty—as well as the interlocking issues that together form barriers to eradicating it—we use financial empowerment in a holistic way to meet the needs of our clients, foster true social mobility and eliminate the wealth and opportunity gaps in our society."