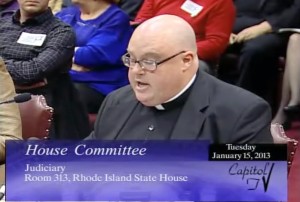 Bernard Healey is the executive director of the Rhode Island Catholic Conference, the lobbying arm of the Providence Diocese under the direction of Bishop Thomas Tobin. Due to the unparalleled access granted to the church's representative by some members of our General Assembly, Lobbyist Healey wields political influence incommensurate with the present status of the Catholic Church.
Between 2000 and 2010 the number of Catholics declined by 14% in Rhode Island, making Massachusetts the most Catholic state by default. Meanwhile, Catholics are breaking ranks with the church on all manner of social issues. A recent poll indicated that 49% of Catholics favor marriage equality legislation, of the kind currently being considered by the RI Senate.  A whopping 82% of Catholics believe that birth control is morally acceptable, in direct contravention to their church's position. Finally, though most Catholics feel that abortion is morally wrong, 62% of Catholics support keeping abortion safe and legal.
Despite the evidence, Healey continues to speak out and advocate for a Catholic position on social issues that few Catholics, and fewer Rhode Islanders find compelling. Worse, despite the fact that Healey commands an ever decreasing following, he continues to be granted special privileges and access to our democratic system.
At the recent marriage equality hearings in the House Judiciary Committee Healey was allowed to speak for over six minutes, three times as long as Governor Chafee. Other religious leaders, leaders of advocacy groups, union organizers and average citizens on both sides of the issue were allowed no more than three minutes to speak and most were limited to two minutes.
Healey is not just a lobbyist at the the State House, he is also a priest, a representative, he would claim, of God's Church here on Earth. As such he is granted the extraordinary privilege of opening and closing various and official State House functions with prayer, which is Constitutionally suspect, to say the least. This blending of church and state cuts against the very principles upon which Rhode Island and the United States was founded. Yet Healey continues to to be granted what can only be called clerical privilege.
This morning Healey had a letter published in the Providence Journal titled "Sad defense of abortion" which took Neil Corkery to task for his editorial "Roe v. Wade's ideals are Rhode Island's" in the January 24th edition. Healey pretends to have just learned from Corkery's editorial that the man favors keeping abortion safe and legal, this despite the fact that on April 11th of last year both Healey and Corkery testified on as series of abortion bills in front of the House Judiciary Committee.
Corkery testified in his capacity as the head of the RI branch of Catholics for Choice, and Healey as the diocesan lobbyist. In an editorial published on the Rhode Island Catholic website following those hearings, Healey wrote, "The American Civil Liberties Union, Planned Parenthood, the Humanist Society of Rhode Island, Rhode Island Medical Society, Brown Medical Students for Choice and even the erroneously named and highly misleading 'Catholics for Choice' all turned out to stop the so-called 'War on Women' at last week's R.I. House Judiciary Committee's hearing on legislation concerning women and unborn children." In the same piece Healey referred to those in support of abortion rights, including Corkery, as "radical promoters of death."
Yet in his letter to the Journal, not only does Healey act surprised at Corkery's viewpoint, he disingenuously claims that Corkery has "always impressed me as a man of compassion for those so often neglected by our society." One might wonder how many other radical promoters of death impress Healey as people of compassion?
Healey closes his letter with a familiar refrain, that the Catholic Church has maintained a "consistent and constant defense of the sanctity of all human life." Consistent is a strong word for a church that has altered its position on abortion no less that eight times.  From 1591 to 1869 the soul was thought to enter the body of the fetus upon "the quickening" the first movements of the fetus in the mother's womb, or about 16 weeks into the pregnancy. It was Pope Pius IX in 1869 who decided that the soul entered upon conception and Pope Leo XIII in 1878 who prohibited abortion even if done to save a woman's life. Apparently concern for the sanctity of human life does not apply to women.
A consistent position is one that does not change. Don't get me wrong, I am not in favor of a consistent position that is immune to change based on better evidence. Consistency is too often a negative, not a positive, but Healey's position is that the Catholic Church has had a consistent, unchanged, God-inspired view of abortion for millennia, and the evidence does not bear that out.
Healey's use of falsehoods to advance his political positions threatens to vanquish whatever is left of the scandal-plagued Catholic Church's so-called moral authority. Healey, quick to quote Theodore Roosevelt, might instead want to heed the words of Thomas Paine who said, "It is better, far better, that we admitted, if it were possible, a thousand devils to roam at large, and to preach publicly the doctrine of devils, if there were any such, than that we permitted one such impostor and monster as Moses, Joshua, Samuel, and the Bible prophets, to come with the pretended word of God in his mouth, and have credit among us. ."
Catholics Don't Even Agree With Church Anymore

,