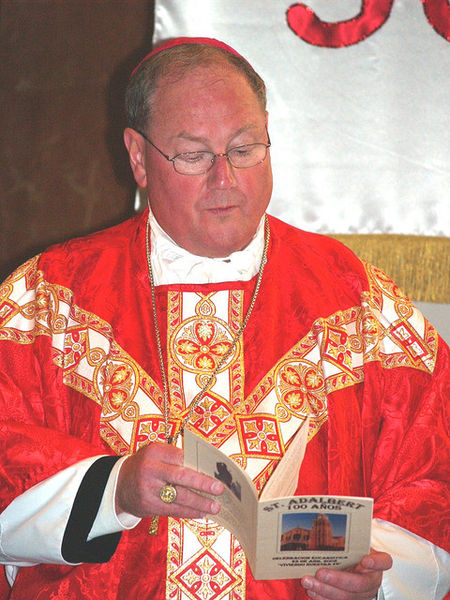 How wonderful would it be for the tea party if, as has been suggested, the Obama Administration were threatening Catholic priests with arrest if they attempted to conduct mass during the shutdown. "Military chaplains," says Justin Katz, are "being ordered not to give Mass, even on a volunteer basis."
It turns out that the shutdown, engineered by the religious right (and at the behest of Catholic Bishops) has an unintended side effect, at least according to John Schlageter, General Counsel of the Archdiocese for the Military Services. According to Schlageter,
With the government shutdown, many GS and contract priests who minister to Catholics on military bases worldwide are not permitted to work – not even to volunteer.  During the shutdown, it is illegal for them to minister on base and they risk being arrested if they attempt to do so.
I would wager that prior to Schlageter's op-ed, no reasonable person would have considered arresting a Catholic priest for volunteering to conduct mass. No prosecutor would bring charges, no judge would allow such a charge to stand, and no jury would convict. But we shouldn't be surprised: religious conservatives often become agitated over imagined controversies like government funded abortions (which are illegal under federal law) and the manufactured "War on Christmas."
There is simply no way a Catholic priest is going to be fined or imprisoned for conducting a mass on a volunteer basis, despite Schlageter's protestations. So why do religious conservatives continue to press this issue? I would suggest two reasons.
The first is the advancement of religious privilege. During the shutdown all government services and contract priests were effectively laid off. Under the Antidefiency Act, a law passed in 1870, the federal government is prohibited from incurring debts Congress has not approved. This is the kind of prudent legislation that Congress passed in the good old days when the institution was not dysfunctional due to Tea Party infestation. Contract priests are like any other "non-essential" government contractor, and they are not technically permitted to work during the shutdown. But because of the First Amendment, there's a perceived difference between being a priest and being a janitor.
Shlageter's op-ed was less than four days old before the House of Representatives passed a resolution, by a margin of 400 to 1, encouraging the military not to cancel religious services during the shutdown. Unlike every other government services and contract worker, priests and ministers will be rendered special, exempt from a law that affects the rest of us. In the United States, everyone is equal, except for Catholic Priests and other holy ministers, who are more equal. Schlageter's letter and the House action reinforces clerical privilege.
The second reason for Schlageter's op-ed and the reason why the story has been given such special attention in the right-wing press is due to the continued efforts of the United States Conference of Bishops to apply any and all pressures on the Obama Administration to alter the Affordable Care Act. As alluded to above, the United States Conference of Catholic Bishops (USCCB) wrote to House members urging the government be shutdown "unless religious employers were given a special right to deny birth control coverage to their employees."
As Adele Stan puts it so well in her piece:
The bishops want to be on the record as champions of health care for the masses, food for the hungry, and shelter for the homeless—things the government, when operational, helps to provide. But they're happy to block access to such services for those in need of them unless Congress agrees to block women of all faiths or none, on the whim of an employer, from receiving prescription birth control as part of the preventive care benefit in the Affordable Care Act.
Schlageter works for the Archdiocese for the Military Services which is part of the USCCB. Conservative Catholics and Christians desperately want to convince us that due to Obamacare, their religious liberty is at stake, contrary to all evidence. In this context, Schlageter's op-ed becomes another weapon to beat President Obama and the ACA with.
As the world falls under the spell of Pope Francis, who seems so forward thinking and genial, especially when compared to his predecessors, we forget that the Catholic Bishops are still working to strip women of their reproductive healthcare rights, still opposed to virtually all forms of birth control, and still advocates against LGBTQ rights here and abroad. Despite his words, Pope Francis has not altered one jot of Catholic dogma and one of Francis's closest advisors, Cardinal Dolan of Boston, continues to lead the USCCB on an all-out assault on Obamacare.
That assault includes urging the USCCB urging Congress to default on its obligations by not raising the debt ceiling, which could, economists warn, plunge the world into a depression that will make the 1930's look like the 1950's. Millions could be plunged into poverty, starvation and disease because the Catholic Church opposes women's reproductive rights.
Jesus supposedly said, in Matthew 26:11, "The poor you will always have with you…" The Catholic Church, it seems, is willing to do everything in its power to make sure Jesus didn't get that wrong.
Catholic priests exempted from government shutdown

,