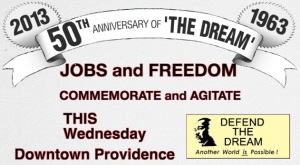 As every living Democratic POTUS addresses the nation from the Lincoln Memorial on the 50th anniversary of the March on Washington and the "I have a dream" speech, Rhode Islanders will be honoring the occasion by meeting at the Martin Luther King Jr. bridge on Finance Way in Providence for a "re-dedication" by Bernard Lafayette, founder of the  Institute for the Study and Practice of Non-Violence who worked with King.
From there the group plans a short march to the downtown URI campus on Washington Street where people from all across the racial spectrum will speak to the historic anniversary.
John Prince, who attended the 1963 March on Washington for Jobs and Freedom, will speak as will Victoria Ruiz, of the Olneyville Housing Association, members of the Providence Youth and Student Movement and Chief Sachem Mathew Thomas of the Narragansett Indian Tribe.
The event starts at 4 pm on the MLK Bridge on Finance Way and the march plans to be at URI by 6pm for the speaking portion of the event.