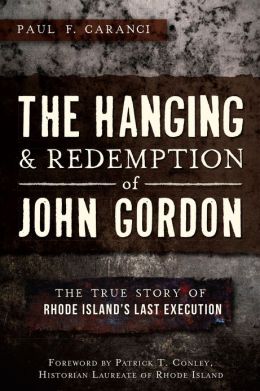 I saw the author, Paul F. Caranci, give a talk about this excellent book a while back at Books on the Square here in Providence and it surprised me to hear him say that he "kind of" believes in ghosts. Perhaps I'm a bit prejudiced, but when otherwise scholarly people talk about the reality of mundane supernatural beings I worry about their commitment to reason and research.
Fortunately, now that I've read the book, my fears have been abated. The book is scrupulously researched, and no psychics seem to have been consulted. Instead, Caranci has used his position as Deputy Secretary of State to consult those original documents that still exist as well drawing upon the pioneering research of historians William Conley, Scott Molloy and many others to bring us the most concise and precise history of the event possible.
In 1843 Amasa Sprague, a wealthy mill owner, was murdered and left "face down in the snow." What followed was a statewide manhunt that quickly settled on Irish immigrant John Gordon as the most likely suspect. Unfortunately, despite the flimsy evidence and suspect witness testimony, Gordon was found guilty. The current political climate, in which immigrants, especially Irish Catholic immigrants, were seen as a blight on proper society (a familiar theme to students of history) conspired to convict and execute an innocent man.
John Gordon was innocent. Not only was he executed, but his entire family was devastated by the trials he and his brother (who was also accused but exonerated) suffered. The case against Gordon unraveled quickly after his death, and the Rhode Island General Assembly responded by outlawing the death penalty in 1852. John Gordon was the last person executed by the State of Rhode Island.
Eventually John Gordon was pardoned in 2011 by the General Assembly and Governor Lincoln Chafee (not that it did Gordon much good.) The pardon reaffirmed Rhode Island's long opposition to the death penalty. Governor Chafee's recent battles with the Federal Government over Jason Pleau, (who unlike Gordon is almost certainly guilty of the crimes he has been accused of) are based on this commitment to justice and mercy.
When Caranci was asked about his feelings on the death penalty at Books on the Square, he hedged a bit, pointing to polls that show Rhode Islanders are pretty evenly divided on the idea, but in the book he says, "If anything good resulted" from the execution of John Gordon, it was "the abolition of the state's death penalty."
John Gordon was executed in part due to his Catholic faith. For a long time his story had the feel of an urban legend: Rhode Island outlawed the death penalty because one day, long ago, we executed an innocent Catholic Irishman. As a result, Catholics have a long history of opposing the death penalty, having once been the primary targets of such laws.
We in Rhode Island should be proud of this legacy. Once, long ago, we made a terrible mistake, but we learned from this and put in place new laws that fit better with our commitment to human rights and dignity. Our views may come under fire (as they did in the Pleau case) but this should not lesson our commitment.
The Hanging and Redemption of John Gordon: The True Story of Rhode Island's Last Execution is well worth a read.
Review: The Hanging and Redemption of John Gordon

,