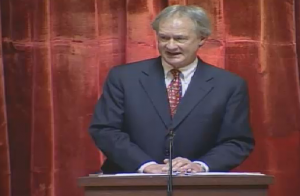 Gov. Lincoln Chafee finds himself in trouble with the media again, but this time it's not for keeping vague documents a secret from them. It's for suggesting that they might have something to do with his low approval rating (possibly by reporting on him). You can find the comments at the end of this part of ABC6's "On the Record with Buddy Cianci" (starting at about 10:22). Chafee suggests that Rhode Island lacks a Walter Cronkite-figure to calm everyone down, and that though Cianci and RIPR's Scott MacKay "do a good job" the rest of the media are looking for the pinata of the week. For some reason, the state news media reacted negatively when their coverage was unfavorably compared to that provided by a man convicted on RICO charges.
Notably, no one has contradicted Chafee by suggesting that MacKay does not do a good job.
It seems representative of Chafee's puzzling approach to the media, which serves to both provoke and then fluster people. Departing Providence Phoenix editor David Scharfenberg says that Chafee's team may be right if they feel that General Treasurer Gina Raimondo and Providence Mayor Angel Taveras get far superior press. But as Scharfenberg notes that "the governor's funny combination of reserve and gaffery ensures that his accomplishments are both underplayed and overshadowed." Scharfenberg has critiqued Chafee's press strategy before, for example, around the "holiday tree" "controversy". MacKay himself has commented on the Governor's inept handling of the media circus over the Block Report.
What makes this most recent example of self-inflicted wounds notable is how easily avoidable it was. All Chafee had to do was point to Representative David Cicilline's comeback despite the "wisdom" of the polls. This brings up the very legitimate critique that Rhode Island's polling outcomes tend to be far removed from actual voting outcomes. The news media has to quiet down because the polls weren't good predictors of the outcome in 2012, and everyone moves on.
That the Chafee team doesn't have a good answer to the poor poll numbers is kind of startling. This is a pretty standard horserace question, and you ideally want one that doesn't offend the media. But an answer that not only offends the media, but also makes them part of the story… well, it just so happens that the media is one of the media's favorite subjects. So now you get a Providence Journal online poll which is practically guaranteed to not support the Governor's position.
The other issue is that by invoking Cronkite and saying that the respect for office has eroded in the country, Chafee invokes a nostalgia for a mythical past. Yes, Cronkite was highly-watched in an era when there were only three networks. But calming? There were many disasters and social unrest that befell the country during his tenure, and Cronkite reported the news, rarely calming America. It's not like he prevented a city from rioting by singing to them. As for respect for office… George Washington, whose ascendancy to "American God" status is so complete that the U.S. Capitol has a fresco entitled The Apotheosis of Washington, was burned in effigy during his tenure as president. Chafee has yet to be burned in effigy, though that is an admittedly low place to set the bar.
Perhaps if Governor Chafee had a "man of the people" air about him and was already popular, he could take an antagonistic tact with the media. Even under the best of circumstances, it is a risky choice, reliant on a way to bypass traditional media to speak directly to voters. Chafee, with his reserved patrician manner and habit of holding his cards close to his chest, is not well suited to chose this approach. He needs the media on his good side. After all, they're the only ones who are going to get his message out there.
Chafeeshambles

,