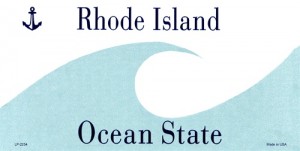 One of the more controversial bills to pass in the General Assembly, in its last week, would create a special "Choose Life" license plate. This has many folks crying foul. The organization that would benefit from the sale of this special license plate is religiously affiliated. Should the State be collecting funds for a religiously affiliated organization?
The bill was transmitted to the governor's office on July 10. He has seven days to veto this bill or it becomes law. (Wednesday, July 17)
The Rhode Island Progressive Democrats of America (RIPDA) recently sent the following letter to the governor and we urge other like-minded folks to contact the governor's office to ask him to veto this legislation. We also ask that you contact the governor at (401) 222-2080 or by email at governor@governor.ri.gov.
Dear Governor Chafee:

Re: S298 Sub A & H5053 Sub A

The Rhode Island Progressive Democrats of America urge you to veto the recently passed legislation that allows the non-profit organization CareNet to benefit from "Choose Life" license plates.  It would be in direct conflict with both the RI and US Constitutions for the state of RI to collect and distribute funds to CareNet, whose mission statement is "to share the love and truth of Jesus Christ in both word and deed." They are also known to spread scientifically inaccurate misinformation about abortion. We are steadfast in our commitment to the separation of church and state and we value our founding ideal that our great state "be maintained with full liberty in religious concernments." Under this ideal CareNet has the freedom to produce and sell bumper stickers with the message of their choice. The state should not be complicit in proselytizing on the subject of personal reproductive decisions.

Governor, we ask that you veto the "Choose Life" license plate legislation recently passed by the General Assembly!

Respectfully,

The Rhode Island Progressive Democrats of America
Veto anti-choice 'Choose Life' license plate

,