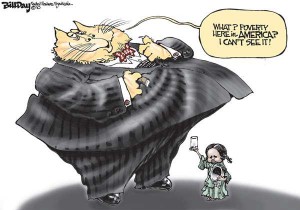 I seem to remember a time when people actually cared about poverty, when poverty was something that society actually wanted to alleviate, when poverty was the social ill and not poor people.  That unfortunately was a long time ago.
Almost 15% of Rhode Islanders live in poverty, close to 155,000 of our mothers and fathers, our sisters and brothers, our daughters and sons.  According to the 2013 RI Kids Count Factbook, "[t]here are 39,900 poor children in Rhode Island, 17.9% of all children."  One out of ten RI seniors lives in poverty.  In a civilized society that is supposed to take care of the less fortunate among us, this should be totally unacceptable.  In today's America, this is just another day in paradise…
There is a lot of discussion about the "middle class," and about how to "strengthen" it.  But there is generally little discussion about poverty, its causes, consequences, and solutions (yes… solutions).  When there is discussion about the plight of the poor, it is generally to blame them, either indirectly or directly, for their circumstances.  This is not only offensive to the many, many folks who live their lives every day struggling to make ends meet, it completely ignores the economic realities facing the country and the social bases that perpetuate inequality and inter-generational poverty.
A Google News search for "poverty" yields 149,000 results.  The same search for "deficit" brings back over 1.2 million results.  I'm not sure why this is the case, but I feel the lack of discussion about poverty in the public realm perpetuates the problem, making poverty less visible and therefore "ignorable."  The closest thing to a full public debate on poverty in recent years was John Edward's campaign theme of "Two Americas" leading up to the 2004 and 2008 presidential elections.  And while that was particularly striking to me given the state of electoral politics, it was no Lyndon Johnson's "War on Poverty" ad.
To this point, I am glad that Dem Whip Steny Hoyer recently announced the Task Force on Poverty and Opportunity, if for no other reason than to bring additional attention to a persistent and growing problem.  Equally, I am glad that Rep. David Cicilline has been appointed to it as he is one of the most vocal in Congress about poverty and has been working on his plan for two years to further boost American manufacturing.
These manufacturing jobs would be in sharp contrast to the low-wage work, particularly part-time work, that has been the norm during America's economic malaise that many people call a "recovery."  When almost 60% of the total number of jobs created after the recession officially ended is low wage occupations, should we even call it a recovery?  Moreover, the recession's effects on employment highlight the need for non-employment based programs to reduce poverty.  Focusing only on programs to enhance the income of those who are working, while important, does nothing to help those who are unemployed.  And the longer folks lack a job, the harder it is for them to find another.
Empirical research shows that the loss of a good job during a severe downturn—the job-loss pattern of this downturn—leads to a 20 percent earnings loss lasting 15 to 20 years.  Earnings losses are more severe for long-term unemployed workers who run a greater risk of dropping out of the labor force and falling into poverty.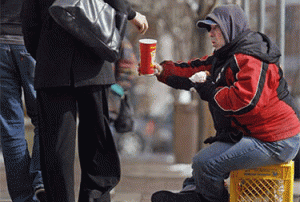 It's important to understand that the policies and programs focused on reducing poverty actually work…, you know, when they're allowed to work.  There are things that can (and should) be done to alleviate poverty in this country, especially in times like these.  When the economy was destroyed by those who have everything but wanted more, forcing misery and destitution on millions of Americans through no fault of their own, the most important thing to do is help ensure people can improve their lives.
I hope this task force will help find more creative solutions to reducing poverty, showing the same sense of seriousness and urgency that prompted Lyndon Johnson to push the Economic Opportunity Act of 1964 through Congress.  They could start by raising the minimum wage, increasing the EITC benefit, prosecuting wage theft, making it easier to join a union, and truly helping the unemployed with job training, entrepreneurship assistance, long-term unemployment benefits, stimulus spending, and even subsidized work.  Maybe then we'll see another significant decline in poverty as was seen throughout the 1960s.
David Cicilline and the anti-poverty agenda

,