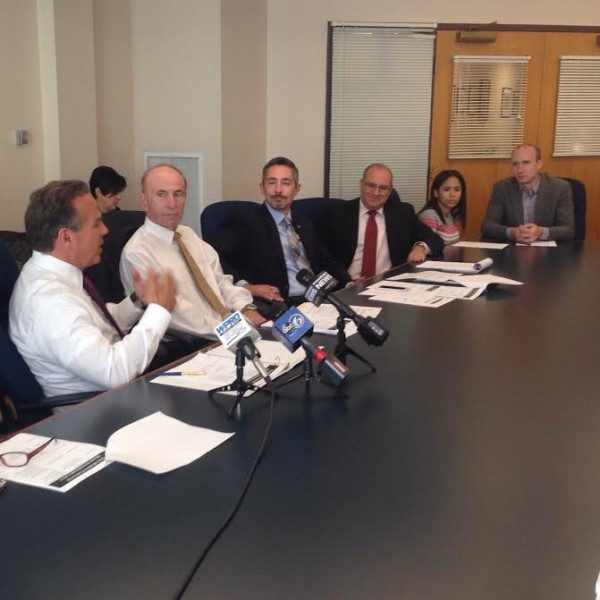 Congressman David Cicilline will file a new bill in September that will address the student loan debt crisis facing America, he announced at a press conference today.
"Millions of young Americans are being forced to either take on massive amounts of debt or give up on the pursuit of a college degree," Cicilline said. "This is completely wrong. Higher education must be accessible and affordable to all who are willing to work hard, and not a privilege for the wealthy."
The legislation is being called the Making College More Affordable Act. Watch the round table discussion Cicilline organized about the issue.
"It reforms and simplifies our broken student loan system and moves us closer to making college a right for everyone, not a privilege for a few," Cicilline said. "The Making College More Affordable Act will ensure that more young people have access to college education and the resources they need to get ahead."
The bill will "address the root causes of this problem through a five-point approach," according to a news release from Cicilline's office. See fact sheet here.
1) Creates an automatic payroll deduction, thereby simplifying the payment process by deducting monthly payments in the same way that Social Security contributions are deducted today.

2) Lowers the required monthly payment for undergraduate student loans from the current range of 10-20% of a borrower's after-tax income to a starting contribution of 4% of pre-tax income, with payments increasing for incomes more than $100,000 annually.

3) Eliminates interest payments for borrowers who make monthly payments on time.

4) Shifts from a range of 10-25 years on a loan to a clearly defined 30-year loan – the same as a home mortgage.

5) Allows at least 30 million Americans who are holding student loans today to refinance existing student loan debt by entering into this new system.
The average Rhode Island college graduate would save $11,124 under Cicilline's proposal, according to the news release. The average RI college grad owes $35,169, said the news release.
"Access to higher education is one of the single greatest predictors of success later in life," said the news release. "Among millennials, someone with a college degree, as opposed to a high school diploma, will make 62.5 percent more in annual income, will be three times more likely to have a job, and will be four times less likely to live in poverty."