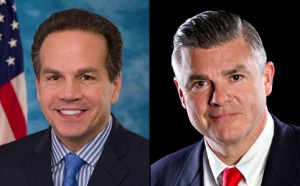 David Cicilline said Brendan Doherty would side with conservative House Republicans if elected to Congress and effectively do damage to social security and Medicare, while Doherty said he would be his own man who would work to protect social security and Medicare.
Can both be true? Cicilline may have made such a point at the WPRI debate at PPAC Tuesday night when he said because Doherty supports the very conservative House Republican leaders how he would vote is less important than who he would vote for.
By the time it comes to voting, Cicilline said, the damage would already have been done. "They don't need him at that point. He already put them in power."
Another area where the two candidates disagreed: Cicilline said he would improve the local and national economy by investing in the manufacturing sector; Doherty said he would do so by drilling for more oil.
Seriously, in his appeal to Rhode Island voters, Doherty actually recycled the old Sarah Palin logic of "drill baby drill."
Cicilline, on the other hand, said high wages in China and rising costs for transportation are making manufacturing a more viable option for growth again. Since we can bring more manufacturing jobs than oil drilling jobs to Rhode Island, the advantage on this one has to go to the incumbent.
A highlight was when moderator Tim White asked Doherty is he took exception to Cicilline's previous career as a criminal defense attorney.  Doherty said it only became a campaign issue because the Cicilline campaign took him to task for not supporting the Violence Against Women Act, to which White said, "You're basically saying he started it."
He started it is not indicative of uncommon integrity. Just sayin.
Another interesting moment was when neither candidate would endorse the landmark pension reform bill the General Assembly passed during a special session last year.
"Pension reform is best done by negotiations," said Ciciline. "People made life decisions based on those commitments."
Doherty added, "I wish it was done fairer and more equitable. We know we needed pension reform. I wish they put a little bit more effort into it."
David Cicilline Wins Debate Against Brendan Doherty

,