For over two decades, City Year has operated out of an office in Providence located behind City Hall. This location is no mere accident, there is a symbolic relationship between the two which directly impacts the education of Providence public school students. The nonprofit has become a unique instance where politicians on both side of the aisle can agree on certain steps to take with regards to public education. However, this cross-partisan bridge is not necessarily symbolic of a healthy trend, it in fact defines a consensus point between the two major political parties that has dire consequences for both students and the unionized teacher movement. But in order to grasp this relationship, there is a deeper issue to account for, the creeping toll of neoclassical economics and neoliberalism.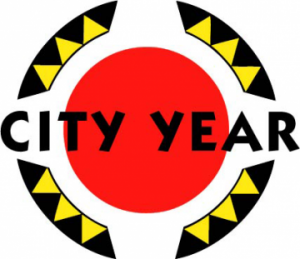 City Year was founded in 1988 by Harvard Law School room mates Michael Brown and Alan Khazei. Their original vision was to create a young adult organization that would function as a kind of domestic Peace Corps and that bore some resemblance to the New Deal Civilian Conservation Corps. In the first few years, the program, based out of Boston, was a halting success, mainly involved in a series of public works and betterment efforts that were well-intentioned but did not make the gigantic impacts in the original dreams of the founders. There were also typical start-up problems every non-profit faces when its volunteers are in that age bracket, such as absenteeism/tardiness and poor behavior. They began with after-school programs, a weekend youth group called Young Heroes, and literacy tutoring, as well as the foundation of AmeriCorps, based on the City Year model. That all changed in 2010 when the organization, now in multiple cities across the nation, adopted a full-time school-based program, focused on student attendance, behavior, and course performance. However, underneath the red jackets, their laid a set of steps that played right into the hands of the neoliberal policy agenda.
When I graduated Rhode Island College in 2009, I was facing a lack of job prospects and no medical coverage to pay for a variety of prescription drugs that I take for several chronic illnesses. City Year appealed to me for several reasons. First, as an Eagle Scout, I have an inclination towards voluntary service. Second, City Year provided full health insurance. Third, those who graduate the program are eligible for the Segal AmeriCorps Education Award, which I used to pay off one of my student loans. As a member, I was part of the Young Heroes team. During the week, we would run after school programming at Bridgham Middle School, which is on a side street between Broadway and Westminster Street in Providence adjacent to the entrance to Olneyville. After the New Year, we took up the youth program on Saturdays, hosting hundreds of youth as we ran a variety of activity modules intended to promote better citizenship.
For pay, we were given a stipend of less than $1,000 per month. I lived at home to save on room and board, but my fellow Corps members, who came from across the country, were encouraged to get Food Stamps and budget wisely. The argument for this does have a Francis of Assisi-like quality, encouraging one to live with the means of those one serves, but there remains a simple question, why would then-Mayor David Cicilline spend all this money to host a City Year organization instead of just hiring more teachers? Should a Democratic Party-majority municipality with a major education infrastructure problem be sending funds to a non-profit or invest it in upgrading the schools? Was it not John Maynard Keynes who said that, especially in a recession akin to ours in 2009, the way to get out of the slump is to increase public spending and hiring of good-paying, unionized public workers?
The Democrats have long supported neoliberal agenda in regard to education. Figures like Cory Booker and Arne Duncan, considered superstars in the mainstream, have been major proponents of the charter school movement and war on teacher unions. Since Vincent "Buddy" Cianci left the Mayor's office, there have only been Democrats elected to power, yet the roll-out of charter schools and so called "education reform" policies like Common Core, standardized testing, and teacher evaluations are unchallenged. It is easy for the media to demonize certain figures, such as former Education Commissioner Deborah Gist, but it is unheard of to see neoliberalism discussed within the pages of the Providence Journal.
One of the elements of City Year I found most problematic was its so-called 'Culture of Idealism'. It consists of a hodgepodge collection of parables, sayings, and directives that are meant to inspire the Corps. This problematic because it throws together a variety of historic personages from radically different socio-political backgrounds and outlooks in the name of this thing called 'idealism'. Is it appropriate to quote first the anti-choice Mother Theresa and then Nelson Mandela, who legalized abortion in South Africa following his election? Would Martin Luther King, Jr., who died in the midst of developing a democratic socialist outlook meant to challenge the poverty inherent in racism and capitalism, enjoy being lumped together with the same Red-baiting Robert Kennedy that bugged his hotel rooms and phones?
Who cares? Idealism!
There is a long history of genuine education reform in the art of teaching. For example, it was the Brazilian Paolo Freire's 1968 Pedagogy of The Oppressed that radically redefined the teacher-student dynamic and challenged basic institutional assumptions about learning, kicking off what has come to be known as the critical pedagogy movement. Freire utilized the Marxist analysis of colonialism and combined it with his own observations about how students are treated as piggy-bank-like vessels to be filled with knowledge. He said instead that the teachers must collaborate with the pupil to create knowledge, derived from the model of education proscribed by John Dewey. However, with City Year, there is no engagement with this kind of logic. Instead, there is re-enforcement of Common Core and other principles that are actually contributing to the drop-out crisis. The organization claims they want to plug the school-to-prison pipeline, but they traffic in material and philosophy which accomplishes the opposite.
This can be attributed to the fact that the people in charge of City Year Providence and the wider organization are not educators. The Board does include a few people with some experience in education, but what business does Andrew Viens of Bain Capital or Andrew Capalbo of Locke and Lord law firm have in education?
The training I received in 2009 has since changed, so things are different today. When I was there, there was a transition in process and there were members at the highest level who were creating new ideas. However, the simple fact remains that collaboration in the neoliberal agenda continues. There is no evidence of interest in Freire's ideas, just white papers explaining how to implement Common Core better.
Furthermore,  City Year also participates in other neoliberal education trends that are much more problematic. For example, they place alumni in the union-bashing Brooke Charter Schools, which are intended to field-train teachers without proper education in college. When I was exiting the Corps, one option for alumni was the likewise union-busting Teach for America organization. A recent report by Glen Ford at Black Agenda Report explains the major deficiencies in the Teach for America program. The report begins at 24:46 in the broadcast and can be heard by clicking here.
The war on public education includes union busting but also the destruction of teacher tenure. This is because, even if you are protected by a union, you can still have your position phased out. Why? This gets to the very core of being a teacher: As highly-educated working people, they have the capacity, skill set, and oftentimes drive to be community leaders, figures that can and often do fight for equality.
Consider this thought experiment:
Let us suggest that perhaps you have a Social Studies teacher in a middle school. As part of a yearlong assignment, the class is asked to do a news analysis assignment wherein they track a recurring set of stories about a politician who is quite close to the charter school industrial complex. Suddenly, on the occasion when the charters get a huge pile of money to open new locations while the public schools are in shambles, the students read the writing on the wall and understand the systemic failure. They begin talking about holding walkouts, protests, sit-ins, all sorts of direct actions. These kids, in the midst of hormonal upsurge, need a teacher to guide them through direct action politics, help them understand what it means to make demands, and how to gauge results as either success or failure. In short, they need a teacher, protected by tenure, who can speak truth to power.
---
Things were further complicated by ethical challenges I faced when I was in City Year. When we did outdoor service, work that should have rightfully been done by properly-trained and paid Providence city employees, we were given zero instruction about equipment safety.
There are now 27 City Year locations across the country. I did a brief cross-section of these locations with locations cited in a 2013 article by In These Times that named five cities in the midst of a neoliberal takeover. Several of them also have City Year programs in their states and are the homes of prominent education deformers like Arne Duncan, Bill Strickland, Eric Hanushek, Bill and Melinda Gates, and Michelle Rhee..
The question now becomes a simple one, can City Year shed its neoliberal tendencies and become an agent for positive change? That is a difficult question. The idea that individuals untrained in the pedagogical methods can jump in and out of a troubled school district and affect students positively within the course of a school year is problematic at best. Serious re-calibration of their training modules with accredited institutes of higher education, such as Rhode Island College, to create certified teacher's aides is the most tenable solution that comes to mind. Currently one can gain certification to become a TA after 18 hours of training with an accredited organization and passing the ParaPro test if one does not hold a college degree. In the place of City Year, Providence could be hiring qualified TAs with ease.
The only problem is the TAs are unionized and receive benefits and pension for their work, something Corps Members do not get from their service. And just to be clear, I would not want to make it seem like I am bashing anyone, a systemic critique in the Marxist vein I aim for is instead based around a political economy of structural nuances. The people who join City Year have the best of intentions and should be highly respected for this effort. But, to borrow from the logic of Slavoj Zizek, the ideological matrix is such that they do not know that they are actually contributing to a status quo of education failure.
But this would also require a much higher standard for applicants and tougher screening. It would also behoove the organization to become more integrated with the American Federation of Teachers and other labor organizations. Of course, that would also risk the Corps members trying to unionize for better pay, especially now that free healthcare is the law and not a membership perk. This is a difficult matter, but I imagine some idealism will help them figure it out.