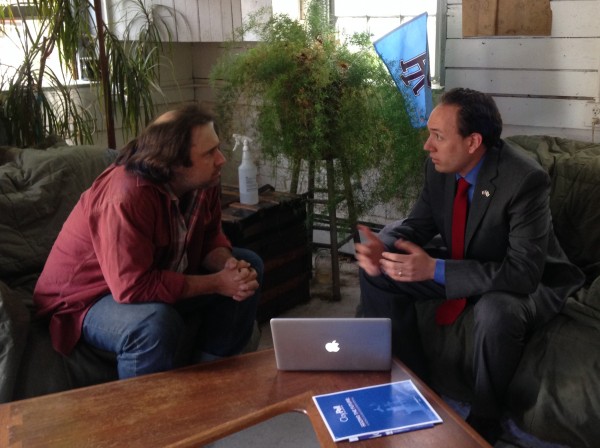 Clay Pell may boast a lot of liberal street cred in the Democratic primary campaign for governor, but when he paid the RI Future newsroom a recent visit he shied away from being defined as the progressive in the race. Or even drawing a distinction.
"Progressive values are Democratic values," he told me, "and that's why I talk about being a Democrat, and beliving in core Democratic values. I believe the party should be about helping people who want to be a part of the middle class."
In a pretty wide-ranging 25-minute interview, my big take-away is that Pell sees himself as a change agent for Rhode Island who will focus on improving public education, perhaps looking to build on his grandfather's legacy.
But what I really wanted to know was why should one support him rather than Angel Taveras, the progressive mayor of Providence from whom Pell has siphoned crucial liberal support. Here's what he told me when I asked him:
Rhode Island's path to economic strength involves building on the industries that play to the Ocean State's natural strengths like maritime-related business, Pell said.
As is the case whenever one speaks with a candidate for office, some of our conversation veered off into the real of platitudes. But I must admit, I really like his idea of a future Rhode Island.
And I really liked how he showed a strong commitment to restoring state aid to struggling cities and towns.
You can listen to our whole conversation here: