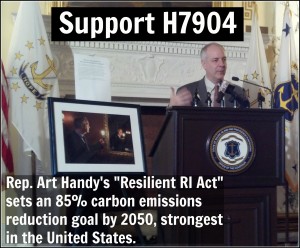 The Providence City Council wants the state of Rhode Island to address climate change.
At its meeting on Thursday the Council unanimously endorsed a resolution calling upon the General Assembly to pass Rep. Art Handy's (D-Cranston) climate change bill, known as the Resilient Rhode Island legislation. (Listen to a podcast with Rep. Handy about his bill here)
The Providence resolution about the bill was put forward by Council Majority Leader Seth Yurdin.
"Climate change is the biggest challenge that we face in our time," he said in a press release. "As a coastal community, Rhode Island is especially susceptible to the dangerous effects of climate change, such as rising sea levels, coastal erosion, and flooding. As elected officials, we have a moral obligation to do all we can to combat climate change."