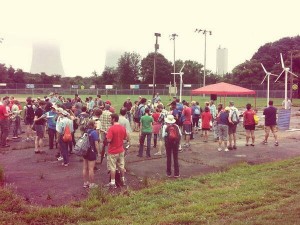 Hundreds of climate activists, (including members of Keepers of the Mountains, Fossil Free RI, and 350.org), marched on the Brayton Point Coal Plant yesterday; I counted myself lucky to be among them. The action began with Saturday's 6 hour long training, and resulted in 44 arrests on Sunday afternoon- (and more than a few sunburned faces).
Louis Alstadt, (former Vice President of ExxonMobil), recently told the world: "It will take masses of people demanding action from politicians to offset the huge amount of money that the fossil fuel industry is using to influence lawmakers."  This statement reflects our reasons for taking to the streets, demonstrating passion and perseverance, in such great numbers.  The shared beliefs which brought us together were summarized by one of the rally's first speakers: "Their vision of profit by coal or petrol is wrong."  The industry has abused Appalachian workers, leveled mountains, and impacted our environment from West Virginia to Massachusetts, and remains the largest single source of global warming pollution in the world.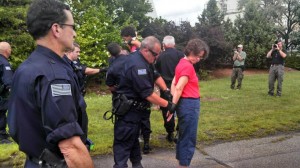 "We believe that climate change is an absolutely urgent and pressing threat that will kill people," said Craig Altemose, director of the Better Future Project.  Yet he also noted that this isn't really just "climate change" – it is, more specifically, "global warming."   We must call it what it is.  He described Russia's heat wave in 2010, which claimed the lives of 15,000, and discussed the global impact of that season.  With coal comprising one-third of all CO2 emissions, we have no choice but to end our consumption within the next 30-40 years.  To ignore this fact (or to buy the myth of 'carbon-free coal') is what one speaker jokingly called "wicked stupid."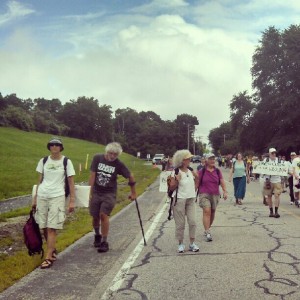 Dominion Energy, the owner of Brayton Point, has invested $1 billion to make the plant more "environmentally friendly."  This is laughable when it contributes to higher rates of asthma and cancer, and tops the EPA's list of "most toxic emissions" in Massachusetts.
And what did we face, as peaceful protestors looking to gain Gov. Deval Patrick's attention?
One hundred law enforcement officials from the Somerset Police Department, Massachusetts State Police, the Massachusetts Environmental Police, the Southeastern Massachusetts Law Enforcement Council, and members of the Bristol County sheriff's office. Those arrested were taken to a makeshift jail set up by the sheriff's office at a National Guard armory in Fall River.  However, our criminal (in)justice system is not enough to stop many folks who see this as an urgent life-or-death matter.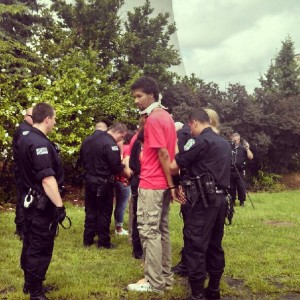 According to the FB page of 350 Massachusetts, Turner Bledsoe (79 years old) had this to say, regarding his arrest: "This is the most important thing we can do at this time. We're on the tipping point. Emissions must go down. If we don't do something about it, we're in the soup."
One protestor I spoke with said she appreciated everyone shouting "Thank you, We love you!" at the arrestees.  The gratitude and beauty was indeed palpable, and I left with a renewed sense of purpose.  It isn't that we "should" do more; we must do more.  When lives and ecosystems are at stake, it is an obligation- to the earth and to each other.
Climate activists protest Brayton Point power plant

,