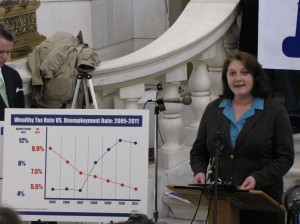 Maria Cimini is one of my favorite politicians in the state of Rhode Island.  Far too few state representatives understand the plight of working people like she does.  When conservatives attack economic growth and the 99%, she is there on the floor of the House making passionate and moving speeches defending those who are too often left voiceless.
There are far too many reasons to support Representative Cimini for me to list, but here are the two that lie closest to my heart:  Her signature initiative, paring back the tax cuts for the rich, is perhaps the most important budgetary goal, not just of the Rhode Island progressive movement, but of the Democratic Party nationally.  And in the last legislative session, she was one of only 20 state representatives to vote against the brutal cuts to Medicaid that threw 6,500 Rhode Islanders off the popular single-payer program.
So please join me in supporting Maria at her fundraiser tonight, which will be held at the Elmhurst Pub (670 Smith St., Providence, RI), starting at 5:30.
Contributions can be made online here: http://www.mariacimini.com/en/donate.html
Come Support Maria Cimini Tonight (Thursday)!

,