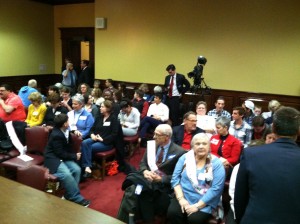 The Senate Judiciary Committee made history today with the passage of two bills regarding same sex marriage, and the defeat of a bill that would have put the question of marriage equality to a ballot vote in 2014.
In a vote of 7-to-4, the committee passed SB 38, which redefines marriage as a union of two adults, regardless of sex, thus moving marriage equality to the floor of the Senate.
Supporting Committee members of the bill entered the hearing room to applause, Sen. Donna Nesselbush was given a standing ovation.
Nesselbush, the bill's prime sponsor, said, "I have been on the other side of  the table supporting this issue for many years. I am so proud to be the lead sponsor, and I'm proud that we can move forward on this historic legislation. This has been a fight that has taken, literally, two decades to get to this point."
"Personally, it's a huge moment in my life. After years of thinking that, because I'm gay, I'll never be able to get married. That is a huge setback in anyone's life."
Back in March, the committee heard over twelve hours of testimony on the proposed change of the definition of marriage to include same-sex couples. Proponents and opponents filled the halls of the statehouse that day, and the ratio those who testified in favor of the change outweighed the opposition by 2-to-1.
"It's a culmination of years of lobbying, advocating and education. This is an affirmation that we are part of society; we are OK," said a visibly emotional Rep. Frank Ferri, lead sponsor of the bill in the House, "and that all of the things that people have said about us over the years – that we're not normal or moral – have just made us stronger. Today is the exhibition of that strength."
This is what progress sounds like:
[vsw id="9NQ06aySPa8″ source="youtube" width="525″ height="344″ autoplay="no"]
Committee moves marriage equality to full Senate

,