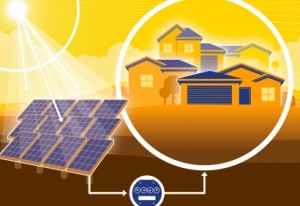 On June 18, the General Assembly passed a renewable energy legislative package that continues to move Rhode Island towards a clean energy economy of the future.
One section of this package, reflecting legislative language I introduced this session, expands Rhode Island's net metering law to provide residential accounts and low-income and affordable housing residents the capacity to remotely net meter. By creating new opportunities for community renewable energy projects that are open to all Rhode Islanders (not just folks who own a roof that's perfect for solar), our legislation will spur local renewable production, boost our state's economic development, and bring the benefits of renewable energy to thousands more Rhode Island families.
This program expansion comes not a moment too soon. Most of us understand that there is a climate catastrophe hurtling towards us that requires urgent action. We also know that the move to renewable energy offers incredible economic potential – in fact, Rhode Island's 2016 Clean Energy Industry Report found that clean energy employment grew a stunning 40% last year, to 14,000 jobs. So as a state, we have both a moral obligation and an economic imperative to go full steam ahead with a transition to clean energy.
To achieve this, we need to take renewable energy to scale and make sure its benefits are accessible to all Rhode Islanders. Community remote net metering is a critical piece of that puzzle; here's how it works.
Net metering is a policy that allows Rhode Islanders who install renewable energy systems such as solar panels to connect to the electric grid and receive credit on their bill for the energy they generate. It makes sense (folks should be credited for the energy they're producing) and creates a major economic incentive to develop these projects.
The problem is that right now, net metering can only apply to installations that are physically on a customer's property. Yet only 25% of rooftops in Rhode Island are currently optimal for solar systems. Many homes are affected by shading from nearby trees or angling issues. And lots of Rhode Islanders are renters, or live in affordable housing, meaning they're not able to install projects right on their residency. The way the current program is set up, we're excluding three quarters of Rhode Islanders from participating in this market right off the bat!
By expanding net metering to include off-site generation and community solar projects, we can ensure that every family has an opportunity to access the benefits of cheap and stable renewable energy, whether or not their direct premises are suitable for a solar or wind system.
That means a lot more demand for these projects, which means more businesses stepping up to fill that demand, which means more jobs, more clean energy, and lower costs for thousands of Rhode Islanders.
It also means more equity. Off-site net metered systems can be designed to serve multiple customers, providing a way for renters and low-income families to join together on community renewable projects that they could never site or afford on their own. As we transition to a clean energy economy, we can't leave anyone behind, so it is critical that we open net metering to all Rhode Islanders – not just those who can afford to build a full system individually.
We have a responsibility to the next generation of Rhode Islanders to act on climate change by bringing renewable energy to scale. But we shouldn't fear this clean energy transition. Rather, this should be a revolution to celebrate, for it entails more jobs for working families, enhanced energy security for our state, and – ultimately – reduced energy costs for all Rhode Islanders.
By expanding access to the democratic, open-source energy generation that comes from community remote net metering, we are moving our state forward toward a more prosperous, equitable, and environmentally friendly economy for everyone. And that's something we can all get behind.
Community renewable energy for all Rhode Islanders

,