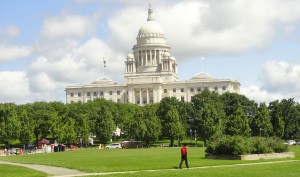 I take a pretty dim view of the way most of RI's political commentators describe the situation at the General Assembly. On the left, you tend to hear the argument that conservatives within the Democrats have at least veto power over the Democratic agenda (and often it's claimed conservatives control the GA) and these conservatives need to be overthrown. On the right, you'll hear the argument that X number of years of ultra-liberal rule have doomed this state. Both of these narratives are simplistic and wrong.
The problem is both of these arguments rely on nothing more than feelings. That's mainly because we lack any sort of data at all when it comes to the political positioning of state legislatures.
Luckily for us, political science professors Boris Shor and Nolan McCarty have not only addressed this lack of data, but they've made it free for anyone with a spreadsheet program (which is literally anyone with a computer) to use. The caveat is that it only runs from 1993 to 2011, and not all of it is complete. It also measures the median legislator.
So where does the RI General Assembly fall in this data? Well, first draw a vertical number line where -2 is far left and 2 is far right. Keep that in mind when you examine the graph below:
The Republicans turned right from 2008 to 2011. This seems to be because the 2008 elections knocked out some Republicans, and the 2010 elections brought more right wing candidates into the fold. But the interesting part about this graph is that while the Senate Democrats went more left following 2008, the House Democrats turned right.
The other thing this graph points out is that among state legislatures, the Republican Party in the RI General Assembly is essentially dead center. Meanwhile the Democrats are center-left. Among other things, this points out the Moderate Party was always going to be a waste of time. RI's general assembly isn't being pulled between two poles of left and right, but between center and center-left.
Now, before everyone leaps to the comments to proclaim how stupid liberals are, let's pause a moment and compare the caucuses to their counterparts in other states. We have two options here. We can use the most recent data that Shor and McCarty provide – which ranges from 2006 to 2011 depending on the state OR we can use 2006 across the board, which is where we have complete data for all legislatures. I'll use both, and you can decide which you prefer. Note that Nebraska has no House of Representatives, and Pennsylvania's most recent data is missing its Senate.
For the most recent data:
RI House Dems are 31/49 most liberal (NV, GA, NC, PA, UT, TN, IN, SD, AK, WV, ND, MS, AL, LA, OK, KY, AR to right)
RI House GOP are 46/49 most conservative (CT, MA, HI, NY to left)
3rd least polarized House (LA, KY less polarized)
RI Senate Dems are 34/49 most liberal (MO, SC, TN, AL, TX, DE, KY, IN, SD, NE, MS, ND, WV, AR, LA, OK to right) PA: missing data
RI Senate GOP are 45/49 most liberal (VT, CT, NJ, MA, NY to left) PA: missing data
4th least polarized Senate (LA, DE, WV less polarized)
For the 2006 data:
RI House Dems 30/49 most liberal (KS, NV, NC, PA, GA, IN, WY, UT, TN, SC, AK, WV, SD, ND, AL, OK, LA, KY, MS, AR to right)
RI House GOP 48/49 most conservative (NY to left)
3rd least polarized House (LA, KY less polarized)
RI Senate Dems are 35/50 most liberal (SC, TN, KY, DE, SD, IN, MS, TX, ND, WV, AL, AR, LA, NE, OK to right)
RI Senate GOP are 49/50 most conservative (NY to left)
Least Polarized Senate
So what does that tell us? Well, that among Democratic state caucuses, RI Democrats sit in the right wing. Certainly, among Northeastern Democrats, RI Democrats are noticeably right wing. However, they're still left of center. It's because of the GA's Republican caucuses that RI's legislature (among all members) is one of the most centrist and least polarized legislatures in the country. I know I'm out on a limb here, but this is what the data's demonstrating.
This is a state of affairs that disappoints both left and right and wins no accolades from anyone. Activists on both sides will call for their leaders to move towards the wings, and they're likely to be successful in doing so.
Let's jump track and look at the findings of Richard Wilkinson and Kate Pickett in The Spirit Level, which found that while Vermont and New Hampshire pursued two very different agendas (one on the left and the other on the right), they've arrived at roughly the same outcomes for their people. That's ultimately what the General Assembly is judged on: the outcomes of the state. And I know people will dislike this, but some of it is simply beyond our control. Republicans in RI were lucky enough to preside over a period of industrialization, cheap labor, and prosperity from the mid 1800s to the early 1900s. Democrats in RI were lucky enough to preside over the broadening of that prosperity and the deepening of that industrialization, and unfortunate enough to preside over its collapse as well.
A lot of that wasn't because of government policy, but because of events and technological advances no one would've foreseen. How a government creates or fosters broad prosperity is less important than that it does so. And it could very well be its own centrism that's hamstringing the General Assembly from taking any action of importance for the economy.