The "final draft" for the COP21 climate deal in Paris is in and the Twitter spin machine is working overtime:
The strong Paris agreement on climate means a safer, more secure world for our kids. A perfect example of what American leadership can do.

— President Obama (@POTUS) December 12, 2015
Another gushing tweet:
Today's #ParisAgreement to curb global #emissions is a major victory for our #climate, our oceans & our kids https://t.co/5q1H7Esx8H #COP21

— Sheldon Whitehouse (@SenWhitehouse) December 12, 2015
Never mind that last month a court in Washington issued a groundbreaking ruling in a case of eight youth petitioners who requested that the Washington Department of Ecology write a carbon emissions rule that protects the atmosphere for their generation and those to come. The court validated the claim that the "scientific evidence is clear that the current rates of reduction mandated by Washington law … cannot ensure the survival of an environment in which [youth] can grow to adulthood safely."
James Hansen has been involved in this  Atmospheric Trust Litigation for years.  In contrast with Senator Whitehouse, Hansen is not funded by National Grid and he explains in an interview with the Guardian why he disagrees with our "leaders:"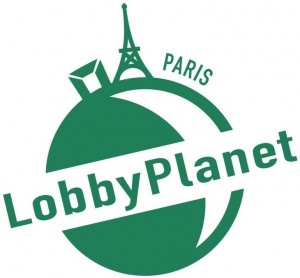 It's a fraud really, a fake. It's just bullshit for them to say: "We'll have a 2C warming target and then try to do a little better every five years." It's just worthless words. There is no action, just promises. As long as fossil fuels appear to be the cheapest fuels out there, they will be continued to be burned.
Self-congratulation of our politicians cannot cover up that fracked-gas boosters— such as President Obama, Senator Whitehouse and Governor Raimondo—continue to support an energy policy that ignores that in the anthropocene, when humanity has become the geological driving force, the pertinent time scale is a decade.
Climate change used to happen over the course of thousands of years.  These days, it only takes a couple of decades. Here, once again, is Hansen:
Global warming is already affecting people. The Texas, Oklahoma, Mexico heatwave and drought last year [read 2011], Moscow the year before and Europe in 2003, were all exceptional events, more than three standard deviations outside the norm [fewer than 3 in 1000].  Fifty years ago, such anomalies covered only two- to three-tenths of one percent of the land area. In recent years, because of global warming, they now cover about ten percent—an increase by a factor of 25 to 50.
This month, scientists of the International Cryosphere Initiative published a report Thresholds and closing windows—risks of irreversible cryosphere climate change.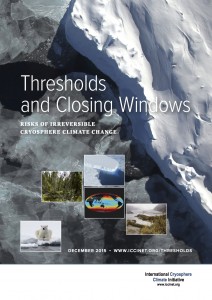 Some of these cryosphere changes have actually already begun. Scientists widely accept that even if we could magically halt warming today, committed and irreversible sea-level rise from glaciers, ice sheets and the natural expansion of warming waters is 1 meter (3 feet), though this new normal will not be reached for about two hundred years. Most scientists also agree that the West Antarctic ice sheet has been so destabilized by warming to-date that it likely cannot be halted without a very rapid stabilization of temperatures, and perhaps not even then. At best, we might only delay the resulting ice sheet collapse, and the associated 3–4 meters of additional sea-level rise, by some hundreds of years.

How much worse things get – how many other irreversible triggers are tripped – is up to us. Unfortunately, this report's analysis of current Paris climate commitments indicates that they will fail to prevent many, if not most of these irreversible cryosphere processes from beginning.
"Never has a single generation held the future of so many coming generations, species and ecosystems in its hands," as the report states, and yet we keep building fossil fuel infrastructure that will haunt us for the next fifty years.  This energy policy ignores health and climate implications discussed at great length in this Compendium of scientific, medical, and media findings demonstrating risks and harms of fracking (unconventional gas and oil extraction.
If for some reason you do not have time to read the full 151-page report, you might want to look at this handy two-page summary of the "blessings" fracked gas brought to us by our corporately owned federal and state governments.
Our Orwellian #CleanPowerPlan seems to have been written by the fracked-gas lobby.  Indeed, if you follow the money, you won't be surprised that Senator Whitehouse never responded to my open letter of June 23 of this year nor found time to visit Burrillville to explain his support for the destruction he supports.