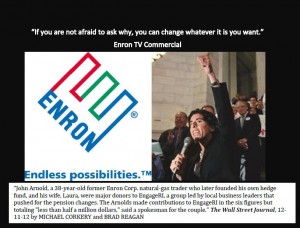 There are many important issues that Ted Siedle of Forbes raises about Gina Raimondo and what he calls her pension overhaul – avoiding the loaded term reform so often used by the local media.
Here are two that I've been asking on this blog for some time now.
One is that she is employing a very high-risk strategy that will definitely benefit Wall Street hedge fund managers and venture capitalists and might also be good for Rhode Island – though he and other experts are skeptical. Siedle told Buddy Cianci earlier this week that Warren Buffett has a "very public" $1 million bet that the S&P Index will outperform these more costly and riskier investments – in other words, Warren Buffett thinks Raimondo is wrong. Siedle says the state is paying more to money managers for the right to take this risk.
This is an issue with special resonance for progressives, as most of us strongly feel a giant problem with Rhode Island's economy and American capitalism in general is that Wall Street comes first and everyone else gets in line according to how well they serve Wall Street's interest.
The other issue, which has been raised locally, is that some members of Engage RI may have a financial stake in pension reform. See question 18 of his 22 Tough Questions For Rhode Island's Pension 'Reform' Treasurer:
Do any of the contributors to Engage Rhode Island have any financial relationship, direct or indirect, with any of the investment managers of the pension? For example, do any contributors to Engage Rhode Island have assets managed by, or an ownership interest in, any of the pension's managers or any fund managed by these managers?
These are both uber-important questions that all Rhode Islanders should want answered.
Raimondo doesn't want these questions answered. Please re-read this post I wrote on December 13. In it, I point out that one the very same day in the Providence Journal, Raimondo tells Mike Stanton that she feels it's okay for Engage RI members to be anonymous and Kathy Gregg quotes her as saying, "it is more important than ever that [a] treasurer bend over backwards to be transparent and open with our investors."
So I made a public records request to Raimondo's office on Jan. 8 asking for all of Raimondo's communications with Engage RI members. I got a letter from Mark Dingley 15 days later, the treasurer's legal counsel, informing me they wouldn't even consider my request, unless I give them $435 first. Here's what he wrote to me:
I would estimate that Search and retrieval will require thirty (30) hours at Fifteen Dollars ($15.00) per hour with the first hour free. See Rl. Gen. Laws  38-2-463), Accordingly, kindly provide pre-payment of Four Hundred Thirty-five Dolîars ($435.00).

Please be advised that payment does not guarantee that the records you have requested constitute  public records (in Whole 0r iu part, i.e., redacted), but only authorizes this Office to conduct its Search and retrieval to determine if responsive records exist, and if so, Whether said records are public records. Should actual Search, retrievàl, and copying fees exceed pre-payment, this office will advise you to seek your authorization before continuing. Should your pre-payment exceed actual Search, retrieval, and  copying, you will, of course, be reimbursed.

Given the voluminous nature of your public records request, the time for this office to respond is extended an additional twenty (20) business days as set forth in Rl. Gen. Laws  38-2-3(e). Notwithstanding this extension, the time period for this office to respond to your request is also tolled as ofthe date of this letter pending pre-payment and authorization.
Sadly for me, RI Future doesn't yet enjoy such access to capital. But if you want to help us get to the bottom of this, please make a donation here. If I'm able to raise the $435, I'll send Raimondo a check and we can begin the process of getting some answers.