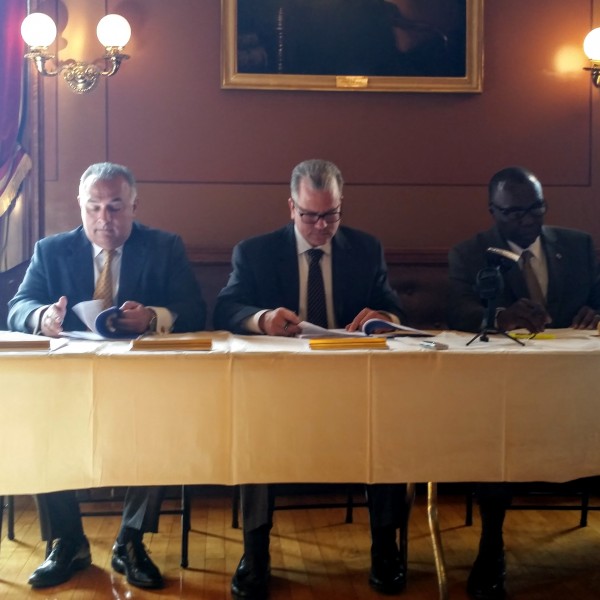 Though Speaker Nicholas Mattiello refuses to call them budget cuts, OHIC, the Office of the Health Insurance Commissioner, will suffer a 75 percent reduction in staff under the new budget unveiled last week. One health care advocate called the reduction in staff "a complete surprise."
These cuts will reduce the effectiveness of OHIC in advocating for lower rates for consumers in Rhode Island, and are seen as a major giveaway to the health insurance industry.
A letter being widely shared throughout the health and medical advocacy community has been shared with RI Future:
The budget passed by the House Finance Committee June 8th cut 9 full-time staff from the Office of the Health Insurance Commissioner (OHIC), effective FY2017. This 75% cut in staffing leaves only the Commissioner, an administrative assistant, and one additional staff member to manage the functions of the office.

The 9 positions that have been cut are essential for OHIC to carry out health insurance premium rate review, which OHIC uses to protect consumers from excessive rate increases; health benefit plan form review, which ensures that mandated services are covered, including preventive services like cancer screening; market conduct examinations (for example, mental health parity); and addressing consumer and provider complaints.
Rate review alone has saved Rhode Island employers, employees, and consumers $196 million since 2012, including $40 million in 2015.  These savings come from the Office's review which can lower premium rates requested by insurers while ensuring that rates are based on sound actuarial standards.
OHIC also reviews rates for Medicare Supplement Plans, which saves money for Rhode Island's seniors, Student Health Plans, which saves money for students, non-Affordable Care Act Health Insurance Plans, and Dental Plans.

"If these cuts remain:

OHIC will not have the staff to conduct adequate rate and form reviews, which will harm the state's ability to protect consumers and employers from excessive premium rate increases.
OHIC's capacity to address consumer and provider complaints about insurer business practices will be severely limited, since staff to manage these cases is cut in the proposed budget. This will negatively affect Rhode Islanders. For example, OHIC investigated a company issuing short term limited duration coverage. The investigation discovered improper denials by the insurance company and OHIC required the company to pay improperly denied claims totaling $36,697.
OHIC will not be able to adequately review health benefit plan forms. This means that there will be no watchdog to ensure that state mandated benefits are covered and covered fairly (parity), including services for mental health and substance abuse disorders, ensure that discrimination does not occur, and ensure that services are not unfairly excluded.
OHIC will no longer have adequate ability to protect consumers from unscrupulous companies issuing non-compliant and misleading insurance plans.

"Rate and form review is a key component of health reform. It must be carried out by state governments, because the federal government does not have the authority to deny or modify premium increases in the states. In recent years the federal government has provided start-up and development grants to states to build and enhance rate review and oversight initiatives as a means to protect consumers and improve insurance affordability, with the expectation that states would continue the work. Rhode Island's grants have allowed us to maximize our statutory authority to review rates and forms and to build one of the most comprehensive health oversight agencies in the country – but no further grant opportunities are being made available by the federal government.

"The 9 positions sought by the Administration for OHIC are integral to having a well-resourced watchdog agency in place to protect and maximize savings for employers, employees, and consumers.  Only a well-resourced OHIC can provide the necessary level of oversight to protect Rhode Island consumers and businesses."

Last week Speaker Mattiello defended the cuts at the Budget Briefing under questioning from Representative Teresa Tanzi. Mattiello said that these jobs were only made to last as long as there was federal funding to support them.
Mattiello's budget helps insurance companies, underfunds health regulators

,