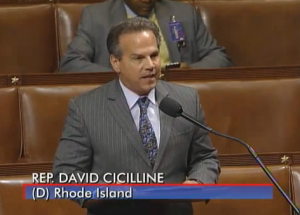 There's little House Democrats can do if the Republican majority wants to spend its time suing President Obama. But Rhode Island Congressman David Cicilline has managed to at least hold the GOP fiscally responsible for doing so.
Wednesday the House of Representatives passed 233-181 the so-called ENFORCE Act. It would create a expedited process for members of Congress to sue the president if they feel he or she isn't fully executing the law.
"Instead of tackling the real issues facing our country, the House Republicans continue to make a mockery out of Congress by bringing politically-motivated bills to the floor that do absolutely nothing to improve the lives of Americans," Cicilline said. "The ENFORCE Act would allow for a Congressional majority to sue the Executive Branch without any oversight, safeguards, or accountability to prevent abuse."
On the House floor he said, "The bill raises its own constitutional issues, and fails to put in place responsible safeguards to prevent abuse. This I believe Mr. Chairman is dangerous attack that threatens the careful balance of power developed by our founding fathers."
But Cicilline did more than just talk about the bill. He also authored a successful amendment that would attach a fiscal note to the ENFORCE Act.
"Ultimately, the tab for litigation under the ENFORCE Act is to be paid by the American people," Cicilline said. "At a minimum, they should be informed of how much of their hard earned money is being spent pursuing these lawsuits."
He said Republican leadership spent "up to $3 million" defending DOMA, the federal law that allowed states to ignore same-sex marriages before it was ruled unconstitutional and "we still do not have an adequate accounting of how much the House Majority has spent on defending this discriminatory law, or whether it continues to spend taxpayer funding on this matter."
Cicilline and Rep. Jim Langevin both voted against the bill. Here's video of Cicilline's remarks: