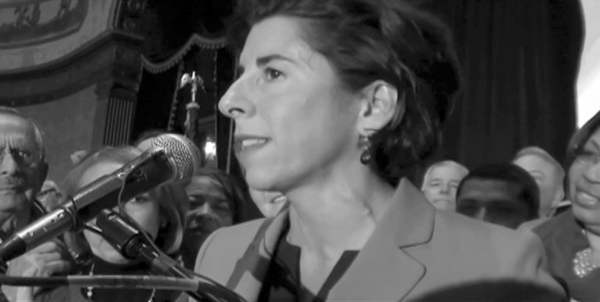 When Gina Raimondo took the stage as a newly minted governor elect, she pledge to build a government in Rhode Island that works for everyone, not just connected insiders. Was this mere rhetoric, or a shot across the bow of Speaker of the House Nicholas Mattiello, who presides over the Harwood/Murphy/Fox machine, the ultimate black box of Rhode Island politics?
There are things Raimondo and the other statewide office holders have said they want to do, such as repeal voter I.D., raise the minimum wage to $15, reform Rhode Island's gun laws, tackle the issue of racial profiling and restrict the interest on usurious payday loans, (to name only a few) but tackling these issues in an even more conservative General Assembly seems an uphill climb.
The Grand Ballroom of the Providence Biltmore was the wrong place for these kind of thoughts last night as the Rhode Island Democratic Party rocketed to victory in all the big races. Last night was a celebration. Representative David Cicilline, stepping off stage after delivering his victory speech, rushed back to the podium, a huge smile on his face, to announce Nellie Gorbea's Secretary of State win to a cheering crowd. Treasurer elect Seth Magaziner's victory speech was short and sweet and Lt. Governor elect Dan McKee's speech went on way too long, but the best speeches came from Gorbea and Raimondo.
The night was not without suspense. There was a collective sigh of relief when channels 10 and 12 called the Providence mayoral race for Jorge Elorza, preventing the embarrassment and inevitable scandals of a third Cianci administration (for the next four years anyway, will a 77 year old Buddy try again in 2018?) Elorza was obviously pleased: I've never seen him so relaxed and at ease. He has a tough four years ahead of him, and he'll be working with a City Council with more than a few new faces and a new, yet to be determined Council President.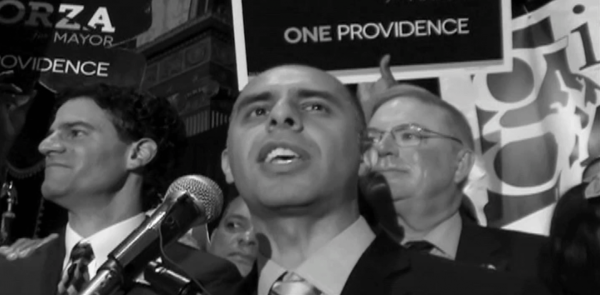 Passing by almost unnoticed was the defeat of Proposition 3, which would have called for a Constitutional Convention. The measure failed despite a drumbeat of support from the Providence Journal. I credit the hard work and enormous talent of anti-ConCon campaign coordinator Jenny Norris, but I'll throw a special shout out here to Mike Stenhouse, of the RI Center for Freedom and Prosperity, who helped tank the idea by inviting Grover Norquist to Rhode Island in support of the measure.
Perhaps voters intuited something about this election that both supporters and opponents of the ConCon missed: this election will have a big impact on state politics. We have a new Governor, Lt. Governor, Treasurer and Secretary of State. We have very different General Assembly, a new mayor of Providence and a different Providence City Council. As a state we just voted in a lot of change, (not all for the better in my opinion but change nonetheless) and the addition of a ConCon was just a step too far.
What is sure is that the future of this state depends as much on organization and advocacy from the public as it does on its shiny new political leaders. This state is only going to get better if we hold these new political leaders accountable.