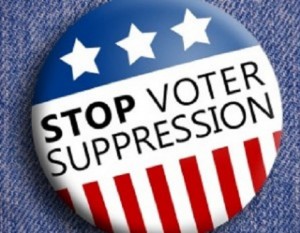 The Justice Department is challenging the legality of North Carolina's and Texas' voter ID laws on civil rights grounds, and they have good reason. These laws disproportionately disenfranchise people of color, latinos, immigrants, women, queer people, students, seniors, the disabled, and, particularly, the poor – demographics that have a harder time than many getting an accepted ID.
The nation-wide conservative push for this legislation is a politically-motivated attack on universal suffrage and a threat to American democracy. Like poll taxes and literacy tests these laws belong in history books on the Jim Crow South, certainly not in 21st Century Rhode Island. Unfortunately, House Democratic Party leadership seems to be throwing universal suffrage under the bus for their own electoral advantage against progressive candidates, whose lower-income and minority supporters are less likely to have accepted IDs.
When Gordon Fox was running for reelection last year, he said that voter ID was the biggest complaint he heard from the constituents in his diverse East Side district. So he pledged to do something about it, promising to sponsor new legislation to "include a 'sunset provision' in the law." Last session, that campaign promise went unfulfilled.
But Attorney General Eric Holder's suit against North Carolina has brought voter ID back into the progressive crosshairs, and the grumbling on Hope Street has begun to grow louder. This year, Gordon may find that his constituents aren't so easily outfoxed.
It's well established: voter ID laws effectively disenfranchise many black, latino, female, queer, young, old, disabled, and poor voters who are otherwise eligible but disproportionately lack the right kind of ID. Further, the only "evidence" to justify these laws are anecdotes told by politicians, which are not supported by real evidence. That's why the laws have been labeled "voter suppression" and likened to the disenfranchisement tactics of Segregation. And it's no accident that these laws have been the pet project of the tea party and reactionary Republicans across the country in recent years; the disenfranchised groups all tend to vote left. Don Yelton, a Republican Party precinct captain in North Carolina, openly admitted this in a recent interview on the Daily Show. Voter suppression is a political game – and the biggest loser in this game is the ideal of popular government.
Embarrassingly, Rhode Island was the only state in which Democratic Party politicians passed this sort of voter suppression law, and it has made us into a right-wing talking point. When Fox passed this law, he even rejected a personal appeal from the chairwoman of the national Democratic Party.
Worse, against popular pressure and his very own campaign promises, earlier this year Fox actually succeeded in revising the law to make it harsher!
The Rhode Island Progressive Democrats of America (RIPDA) collected more than 1,800 signatures on a petition for the repeal of the Voter ID law. According to RIPDA's Sam Bell, after collecting these signatures they met with one of the Speaker's legal advisors, who arranged a meeting with Fox for January of this year. This was a "promise he refused to honor," Bell regrets. When the repeal bill came up, RIPDA, the NAACP, the ACLU and other pro-voting groups put together a strong testimony at the hearings.
In spite of this overwhelming support for a full repeal of the draconian law, Fox offered what initially seemed to be a compromise bill far to the right of the sunset he had pledged to introduce: the law would be frozen in its 2012 form, and the even more onerous requirements scheduled to come on line in 2014 would be dropped. As Bell recounts, "although we [the pro-repeal groups] were severely disappointed, we felt it was best to support this holding action."
This, it turned out, was a tragic mistake. In a cowardly political maneuver, House leadership decided to keep the amended version of the bill secret until the minute before it would be voted on, leaving the members of the Judiciary Committee and the public no time to read the actual text. And with good reason: the revised bill included a provision that sharply tightened voting restrictions. With the revisions, not only would fewer forms of ID be accepted than in 2012—fewer forms of ID would be accepted than under the original law's much tighter 2014 limits! Such a draconian bill would never have passed if the democratic process had been respected, so Fox and his friends resorted to trickery.
In a display of brazen dishonesty, leadership portrayed the amended bill as just a "freeze" of the current law. This story seemed plausible. Several committee members were visibly furious about how weak this leadership-described "freeze" compromise was. "This sucks!" exclaimed Representative Joe Almeida. But the leadership neglected to inform the Judiciary Committee about the part that clearly "sucked" much more: the provision they'd snuck in to dramatically increase voting restrictions. Thanks to the leadership's deception, even strong opponents of voter ID on the Judiciary Committee ended up inadvertently voting for this assault on our basic democratic rights.
What makes the voter suppression law so valuable to Gordon Fox that he's willing to lie to defend it?
In most states, Republican politicians support voter ID measures in order to disenfranchise their Democratic opponents' voting base. The same partisan politics clearly aren't at work here in deep-Blue Rhode Island, but perhaps a similar motive is behind the law nonetheless.
Consider this: in the upcoming Democratic Party primary campaign for governor, the conservative party establishment is expected to get behind state Treasurer Gina Raimondo, whose voting base will be heavily rich and white – demographics likely to have driver's licenses. Raimondo's chief opponent may be Providence Mayor Angel Taveras. With many of his black, latino and low-income supporters turned away at the polls, Taveras would be skating on a broken ankle. A strict voter ID law is a serious advantage for Raimondo and other establishment Democratic Party candidates, and a serious disadvantage to progressive, insurgent challengers. The upcoming gubernatorial race is just one example of the benefits of voter suppression for conservative incumbents; these candidates will have a much easier time getting re-elected if they disenfranchise large blocs of their progressive challengers' voting base. Fox and his friends – at the expense of universal suffrage – are playing a Republican political game in a Blue State: they are refusing to play fair.
But the Speaker can't outfox his constituents this time. If Gordon Fox wants to serve the interests of his racially diverse, progressive constituents, he needs to fulfill his campaign promise of sponsoring a sunset to this odious law. And to prove that he and the Party leadership aren't playing a vicious game of disenfranchisement for political advantage, the sunset will need to be a fast one: the law must be fully and permanently repealed before the next election cycle.
If the Speaker has a change of heart and pledges to support the repeal of the voter ID law at the beginning of the upcoming session, the progressive will gladly work with him to restore voting rights in the Ocean State. But if he hesitates, he'll find himself up against a coalition much larger, much more militant, and much more pissed off than last time.
Voter ID is the greatest threat to the right to vote in this state in over a hundred years. Rhode Islanders historically haven't taken very kindly to being taxed without being represented. Gordon Fox would do well to remember that.
Dirty tricks, broken promises and voter suppression in RI

,