NOTE: This article has been slightly revised based on new information received.
Please pardon me if I lead with a shockingly "artistic" word that wouldn't be printed in a family newspaper…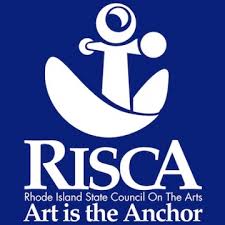 What the fuck is the State of Rhode Island doing by removing the sales tax on "the arts" and then proposing to borrow $35 million to fund the arts? And why the hell is the Governor proposing to shift the Rhode Island State Council on the Arts  and the RI Film and TV office into the made-over EDC, now called the Rhode Island Commerce Department?
In case you missed it, let me give you a brief recap. During the last legislative session, the government freed citizens from the onerous burden of kicking in 7% extra on purchases of paintings, sculptures and so on. Since the whole state is now tax free, you won't have to travel to the former tax havens of Newport, Tiverton, and Little Compton or lesser-known parts of Providence, Pawtucket, Woonsocket or Warwick to get a deal on a stainless steel mobile or a portrait of your great Aunt. (See http://www.arts.ri.gov/special/districts/)
Pop Quiz
How much sales tax have you spent in the last decade on the arts?

Would paying no sales tax have made any difference in your purchases?

Would you have bought more or less "art"?
So why eliminate sales tax?
The idea is that Rhode Island would become an art buying tourist destination, drawing thousands of wealthy patrons from around the globe to spend their millions here. Yes, we'll lose the 7%, but we'd gain so much more in hotel and restaurant revenue.
Theoretically lucky artists, maids and waiters will dance in the streets filling their buckets from the rain of money showered upon them by all those wolves and wolverines of Wall Street looking to wallpaper their apartments in Dubai. I'm not going to hold my breath.
But, in the meantime, if we're not generating revenue from the arts, where will we get state funding for the arts?
More loans from banks!
We're going to borrow it. Yes, just like we pay for our bridges and roads, Rhode Islander's are going to be asked to pay extra for years to come for the art that we use today.
Maybe if the $35 million was going to actually pay for new works of art, that might be interesting (as well as profitable for folk like myself), but it's not. According to the Providence Journal, $30 million of that will be funding for "public and non-profit cultural and performance centers" like Trinity Rep. The last $5 million will go to fund historical sites and cultural centers. I like Trinity. I like historical sites. That's not arts funding.
The Governor also proposed an additional $1 million for art to come from the general revenue fund.
Will this million go to make more art? Will it go to bring more art to children in public schools?
According to RISCA, the answer is, nope.
"This $1 million in new funding does not provide additional resources for grants to artists, arts organizations or schools.  The Governor recommended a hold-even budget of $590,000 in state funds in our discretionary grant category."
—RISCA Website (http://www.arts.ri.gov/blogs/?p=11952)
Who will benefit?
Under this proposal, the former EDC, now called the Rhode Island Commerce Department, will become the administrator for the $35 million. RISCA and Film will move into the Commerce Offices and "collaborate." (Editor's note: here's how Randall Rosenbaum, executive director of the Rhode Island State Council on the Arts described their proposed new relationship on Twitter today and here's how he describe it in a blog post recently.)
According to the Governor, this will "synergize and enliven the state's creative apparatus." Furthermore, Chafee said, "the Commerce Corporation will be a valuable tool for organizing customized programs for the arts: design shops, historical sites, intellectual property producers, all of which drive so much of our economy."
We've seen how great the EDC has been at disbursing creative funds that generate jobs so far (See 38 Studios). I can only imagine how much better the arts will be when fully "synergized"
To recap the entire process as proposed:
No revenue generated for the State by sales tax on "Art."

$35 million more in debt acquired by the State.

Money for established organizations, tourism and historical sites buried in a bill for "arts."

The responsibility for administration of a that $35 million bond is under the aegis of the Department of Commerce.

An unfunded promise of $1 million for the arts that doesn't go to support art, artists or arts in education
So, who really wins?
Anyone who buys buy expensive art and pays no sales tax (see: rich people)
Banks that get more income from bonds (see: rich people)
The Department of Commerce — whatever that is.
But you and me? Naaah.
Who loses?
Artists, who continue to struggle to make a living with possibility of real government support.
Children who spend more time working on mindless tests and only get a taste of "art" as an extension of "business."
Taxpayers who pay extra money for loans.

The entire State of Rhode Island, because art that serves business is called advertising and art that serves government is called propaganda.
What can we do?
Do call Your Senator, Rep and the Governor. Tell your friends.
Don't vote for a bond issue to fund the arts. Don't vote for representatives and senators who claim to support the arts but undermine it. Don't vote for a Gubernatorial candidate who won't make a real commitment to support the arts. Don't vote for anyone who tells you that the business of art is commerce and business.
Oh, and instead of making a campaign contribution this month. Go out and spend a few dollars or a hundred dollars or even $1,000 on art made in Rhode Island. I can promise you that every dollar you spend will be appreciated and recycled within the community. And you'll have something cool to hang on the wall, or read.
And maybe donate an extra 7% to a charity. Rich people might not be able to afford it, but you can.