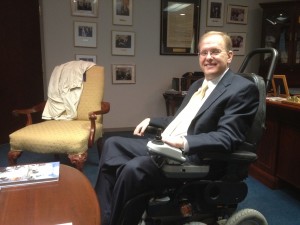 Until this new Congress, Rhode Island's District 2 Congressman Jim Langevin served on the House Intelligence Committee, tasked with, among other duties, overseeing the US drone program. During his tenure on House Intelligence, Langevin also accepted tens of thousands of dollars from corporations that manufacture drones.
In fact, drone manufacturers are among Langevin's most generous supporters, according to Open Secrets. The top 5 donors to Langevin's 2014 campaign committee were:
1. General Dynamics  ($32,050)
2. Democratic Party of RI ($19,800)
3. Northup Grumman  ($15,200)
4. Raytheon Co.  ($13,250)
5. Sheet Metal Workers Union ($12,500)
General Dynamics, Northup Grumman and Raytheon all manufacture drones. This is not the first time I've brought up the issue.
"It is not surprising that Congressman Langevin's work in Congress is of relevance to the defense industry," said Meg Geoghegan, Langevin's spokesperson. "General Dynamics, Northrop Grumman and Raytheon are key players in our local economy, with General Dynamics Electric Boat alone planning to add 3,000 more jobs at Quonset Point by 2020. In fact, the Rhode Island defense sector supports more than 32,000 jobs overall. "
The issue isn't the defense industry. The issue is a Congressman taking money from the industry he was exercising oversight upon. Is that how the game is often played in Washington? Of course. Does it make it right? No. Especially when lives are involved.
In the fall 2014 election, Langevin spent $782,691 against first time GOP candidate and contractor Rhue Rheis, who spent a mere $13,548, according to Open Secrets. Did the incumbent really need the extra money from defense contractors to win against a first time Republican candidate who served in no previous elected office and didn't even raise even $50,000?
When on the House Intelligence Committee, Langevin voted against "an amendment to require that U.S. agencies involved in drone wars produce annual reports in which they account for all deaths in U.S. drone strikes overseas and identify the civilians and alleged combatants killed. The amendment already passed the Senate Select Committee on Intelligence" in 2013.
Geoghegan, Langevin's spokesperson, said, "Campaign donations are accepted in good faith with no strings attached, and do not influence Congressman Langevin's policy work or voting record. He remains a strong advocate for campaign finance reform and transparency, and he is beholden only to the people of Rhode Island."
In response to the December 2014 Senate Intelligence Committee report which revealed heinous instances of torture, Langevin stood on the side of decency, arguing, "Human rights must be preserved in times of peace and war, and I sincerely hope we can learn from this dark moment in our history."
But in response to the use of drones, Langevin's record is more evasive. Drones are used as deadly weapons to track and kill suspected terrorists. At times civilians have been killed. Langevin served on the committee reviewing the drone program, while also receiving money from drone manufacturers.
With the new Congress, Langevin no longer serves on the House Intelligence Committee. To show he is "beholden only to the people of Rhode Island," Langevin should return donations from the industries he exercised oversight- or give the equivalent amount to charity. His action can serve as an example to incoming members on the House Intelligence Committee.
Does Langevin represent District 2 or drone designers?

,