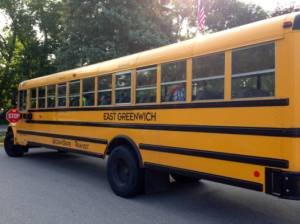 I'll never forget when the East Greenwich School Committee considered outsourcing its custodians. It was as bitter a political battle as you'll ever see in this  high-brow suburban enclave. Conservatives claimed they needed to save money any way they could in order to offer the best education possible while local liberals said it was unfair to transfer wealth from working class janitors to the wealthy taxpayers of East Greenwich.
Another reason offered for not jobbing out public school staff to the private sector is many residents feared that private industry would place profits over safety and wouldn't be as diligent in doing background checks on employees.
Three years later, the East Greenwich community has been rocked by news that a school bus monitor employed by the private company was arrested on charges of child pornography.
We will never know if the community could have been avoided this situation if employment was subject to greater public scrutiny, but we do know that this exact situation that is often the greatest fear of many who fight against privatization of public school services.
I sincerely hope no child is ever harmed in the name of saving taxpayers money.
Does privatization of school services put students at risk?

,