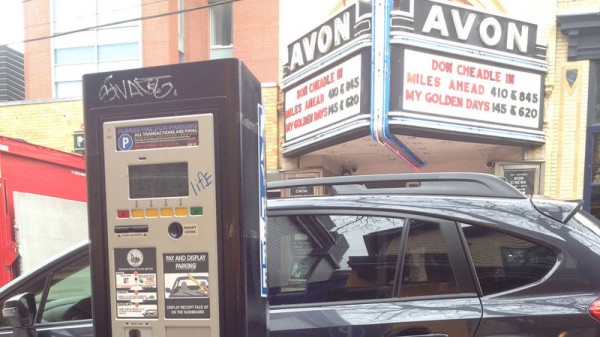 I was a little flabbergasted to see a piece highlighting an effort to remove parking meters on a progressive website like RI Future. We should not remove the parking meters on Thayer Street, but we should change their implementation.
There are a lot of legitimate complaints about the way the Elorza Administration has implemented parking meters. I know, because I've been doing a lot of the complaining. I advocated during the 2014 election for Elorza and other candidates to take on Donald Shoup's parking policies as part of their campaigns. Elorza came closest of all the candidates to speaking the right way on the issue, and it was a big piece of why he earned Transport Providence's endorsement. Post-election, I've been happy with some aspects of what Elorza has done, but unhappy with a lot more.
Parking meters are an essential part of land use policy in any city. If we don't want the city to gradually turn into a parking crater of surface lots, we have to properly manage parking demand. Meters are front & center in that. If we don't get our parking situation right, we'll have many ecological and equity issues as a result.
Andrew Stewart's piece is sloppy journalism because it doesn't corroborate the Avon Theater's perspective on the meters at all. I sat at the zoning board meeting where the Avon Theater spoke in favor of tearing down half a block of multifamily housing to create a "temporary" parking lot off of Thayer Street. The argument at that time was that there wasn't enough parking on Thayer, and that the lack of parking was turning customers away. In fighting against parking meters, Richard Dulgarian, Avon's owner, has said that he has "never seen so many vacant parking spaces on Thayer Street" due to the meters. Either Thayer doesn't have enough parking, or Thayer has empty parking that's not being filled. Either can be true, but both can't be true.
But that doesn't mean that all is well or that nothing should be changed. As I said, there's a lot that is wrong with the way metering is being done, and we should fight to get a better system in place.
Here's how we should address the legitimate complaints of businesses on Thayer Street about parking meters: rather than remove the parking meters (which is a horrible idea) we should implement them properly the way successful cities have.
All the revenue of the parking meters should be given directly back to the metered districts. That the Elorza Administration promised this and did not deliver is one of the principle complaints of merchants. Successful cities always return the parking meter revenue to the local districts.
Meters should be implemented where demand is high, and the price of the meters should be flexible based on demand. This is also a big part of what makes successful metering programs work.
We should also look to implement meters that have helpful features, like being able to re-up on the parking from the comfort of one's table in a restaurant. In Washington, DC, meters remind your cell phone that your time is about to be up. You also have options like being able to be refunded money you overpaid if you leave early. Why can't Providence have that?
There should be no minimum or maximum times. One of the annoying things about meters in Providence is that they have a $2.50 minimum fee if a card is used. Another problem mentioned by Dulgarian is that the maximum times are too short for people to properly enjoy meals. But the whole purpose of charging a price for parking is to allow people to escape time limits. If people are willing to pay to park on Thayer all day long, then they should be allowed to, so long as they pay the price. This could even be part of a policy to better balance the needs of food trucks with brick-and-mortar restaurants.
We tend to reserve certain areas as parking for this thing or that thing. For instance, East Siders, like people in many neighborhoods, naturally feel attached to the parking spot near their house or apartment. The solution is, again, to add parking meters to areas where people want to park, allow the residents to set a price that balances demand and leaves enough spaces open for their own use, and pass the revenue back to them as tax cuts on their property taxes. We're constantly imagining new ways to subsidize parking garages in Providence to fill the assumed need for more parking, instead of thinking creatively about how to use the parking we have.
A separate, but not completely unrelated issue, is that Providence needs to think about land taxation as a way of supporting its business districts. Many small businesses take up tiny parcels of land and cost the city very little in terms of services consumed, but pay more than their fair share of property taxes. I did a report on this in Eco RI which was based on the work by the group Urban 3 in Asheville, North Carolina. Thayer Street, like many districts, pays too much. But it's not because of parking meters. Efforts to add parking, like the expected demolition of the seven houses on Brook Street, will only undermine the tax base of the city that Urban 3's analysis helps to shine light on.
We also need to look to alternatives to help support other ways of getting to Thayer. The #1 bus on Thayer runs very infrequently, making it a poor way of getting to and from shopping. Other buses, like the 92, run really zig-zaggy and infrequent routes that don't help much either. There's virtually nothing to make biking safe on the East Side, or anywhere in the city. And none of these plans has to be expensive. Just to speak of fixing the #1 bus, for instance: many of the changes can be revenue neutral. Now that RIPTA is getting a new chairperson, this is one of the things business districts should take up: a frequent bus network, not a last-resort one.
I will join side by side with a call to change the way the parking meters are currently implemented. As a Providence resident who shops on Thayer Street and goes to movies at the Avon all the time, I won't support efforts to remove parking meters. Let's do parking meters the right way.
~~~~
Don't eliminate parking meters, fix them

,