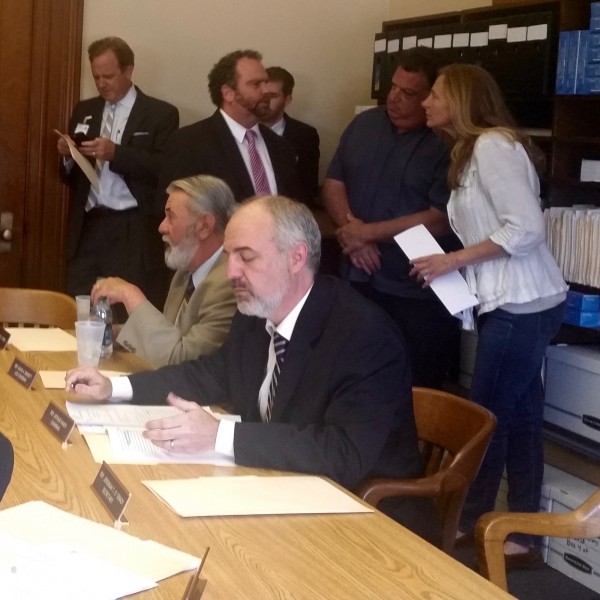 Representative Cale Keable's bill to change the make-up of the Energy Facilities Siting Board and give the voters of Burrillville the ability to vote on any tax treaties their town council may enter to with companies interested in building a power plant in their town passed out of committee today on an 11 to 2 vote. Only Representatives Ray Hull and Michael Marcello voted against the bill, heard in the House Committee on Environment and Natural Resources, chaired by Representative Art Handy.
The bill now moves to a full House vote, possibly as early as Thursday.
Rep Marcello was one of two representatives to attend the Northern Rhode Island Chamber of Commerce's Eggs & Issues Breakfast Thursday morning where Invenergy's director of development John Niland was the guest speaker.
The bill, if it becomes law, will allow voters in Burrillville the ability to check the power of their Town Council, which has the authority to set the rate of taxes to be paid by Invenergy, which has proposed a fracked gas and diesel oil burning power plant for that town.
The bill, H8240a, is a modified from the version heard in committee last week. The main change is that the number of EFSB members is to be seven, not nine as originally proposed. The original bill included the chairperson of the Commerce Corporation and the director of the RI League of Cities and Towns as board members. These have been removed.
The original bill scheduled the vote on the tax agreement during the next general election. The new bill allows for special elections, to be paid for at the applicant's expense. Near the end of the bill a section was added, at the behest of National Grid, that would exempt any transmission line project that was filed with the Energy Facility Siting Board prior to June 1, 2016.
The bill now heads to the House for a full vote by the chamber.
Meanwhile, the fate of the Senate bill, S3037, which has been referred to Senate Judiciary, is unknown. The bill awaits being heard in committee and time is running out in this session to pass the bill. The bill was introduced by Senator Paul Fogarty.
Keable's Burrillville power plant bill passes out of House committee

,