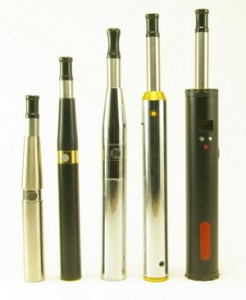 The House is set to vote today on an e-cigarette bill that will benefit only the tobacco industry, according to anti-tobacco advocates.
"The voices for the tobacco industry are receiving more attention than the advocates trying to protect our kids," said Karina Wood, the director of Tobacco Free Rhode Island.
The group lobbied for new state regulations (but no new taxes) for a new tobacco product known as electronic cigarettes, or e-cigarettes – or, if you're a tobacco industry lobbyist a "vapor product." Whatever you call them, it heats liquid nicotine from tobacco without burning it; the bi-product is technically not smoke.
The House bill crafted by Tobacco Free Rhode Island and sponsored by Rep. Helio Melo initially labelled these contraptions as tobacco products, because they use nicotine from tobacco. But at a hearing by the House Judiciary Committee, a new version of the bill was adopted that labels e-cigarettes as "vapor product."
The definition change is significant, Wood said, because it effectively removes any and all punishment from selling e-cigarettes to minors.
"It's basically saying it's illegal, but we won't punish you if you do," she said. "What am I supposed to think?"
Last year, Governor Chafee vetoed the so-called e-cigarette bill because, as he said in his veto message, it defined them as a "vapor product."
He wrote, "The sale of electronic cigarettes should be illegal, but it is counter-productive to prohibit sales to minors while simultaneously exempting electronic cigarettes from laws concerning regulation, enforcement, licensing and taxation. As a matter of public policy, electronic cigarettes should mirror tobacco product laws, not circumvent them."
The House votes on the bill today, and South Kingstown Rep. Teresa Tanzi is urging her colleagues to reject the bill.
"This bill serves to protect big tobacco's interests over our children's health," Tanzi said. "By not classifying e-cigarettes as tobacco products, we will be eliminating decades worth of hard fought protections that we know help prevent addiction, while turning the marketplace into an unregulated wild west. This bill will leave a whole new generation vulnerable to addiction."