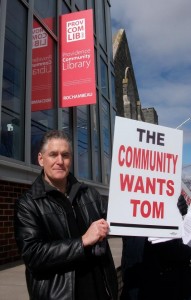 Community action continues as East Side residents demand answers from the Providence Community Libraries (PCL) over the unceremonious and unexplained firing of popular librarian Tom O'Donnell from the Rochambeau Library in February. Picketing has been scheduled for every day the library is open, (the winter storm due later tonight and tomorrow not withstanding) and O'Donnell has scheduled a hearing with the library's administrative board for Monday evening.
There are reports that representatives from the office of Mayor Taveras will be in attendance at the meeting, so the phone calls to City Hall are having an effect to be sure. Still, at least two PCL board members have issued statements in support of executive director Laura Marlane's decision to terminate O'Donnell's employment, so an uphill battle is expected.
Meanwhile, media attention to the issue continues to grow. Bob Kerr, in his ProJo piece suggests that O'Donnell's dismissal is the result of "small rivalries" within the PCL. Kerr also gets to the heart of the issue: the secrecy and lack of openness in the way the PCL conducts its business.
It does seem strange that in one of the most open and welcoming places in any community — a place where discussion is encouraged and ideas are the in-house currency — a good man's dismissal should be shrouded in secrecy.
Ryder Winham, who organized the Friends of Tom O'Donnell Facebook page and chaired Monday night's meeting of the group sees the situation similarly. In his opinion, it's not about why Tom O'Donnell was fired, it's about the PCL conducting its business shrouded in secrecy and with unknown agendas. Such secrecy is anathema to an open society and breeds unfounded rumor and speculation.
Picketing continues today from noon to 2pm and then from 4pm to 6pm. The mayor's office can be contacted at (401) 421-2489. Also, there is an online petition in support of Tom O'Donnell and greater openness of the PCL board that can be access at CitizenSpeak.
East Side Community Wants Its Librarian Back

,