Ed Achorn is correct when he writes that in order to turn around the state's dismal economy, "Rhode Island will have to improve its public schools." But keep one thing in mind, he isn't writing about education in this piece. And his favorite pastime isn't baseball. The answer to both is: blaming labor for what ails the Ocean State.
"Very powerful special interests, who have not been above using thuggish tactics to advance their economic interests, still control public education in the state," he writes.
It's actually impressive how many half-truths, incorrect innuendos and outright falsehoods Achorn stuffed into this one sentence. There are nearly as many lies as words!
Much to my chagrin – and to the detriment of our economy and education system, I might add – teachers' unions are not a very powerful special interest in Rhode Island anymore.
They can toss a couple bucks at a State House race or two, but so can Gina Raimondo. These days, so can pretty much any anonymous Enron hedge fund manager who might care to. And, not for nothing, but those exact two individuals pretty much took all of Achorn's "very power special interests" to the legislative – and retirement – woodshed with pension reform still less than a year-and-a-half ago.
Though the new state education board is decidedly more pro-labor than either panel has been in recent history, Education Commissioner Deborah Gist is one of the nation's more anti-labor ed. chiefs. I'd say the balance is at best split pretty evenly there.
Achorn's game in this instance – and so-called education deformers in general – is to blame unions for what is obviously an issue of income inequality.
Public education is doing just fine in Rhode Island's suburbs – in fact it is flourishing – but it's crumbling in the poorer urban areas. Yet both groups of employees bargain collectively. So what gives, Ed?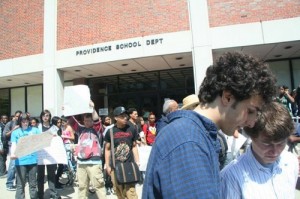 Interestingly, RIPR's Elizabeth Harrison had the answer.
As I was reading Achorn's misinformation, education activist Aaron Regunberg was being interviewed on the radio about his efforts to advocate for education equality.
"I think there is a lot of demonizing public schools," Regunberg said.
But, then again, Regunberg represents a special interest as well: students. In fact, using labor unions as a kind of model, Regunberg has organized students at three inner-city schools into groups that advocate for student interests.