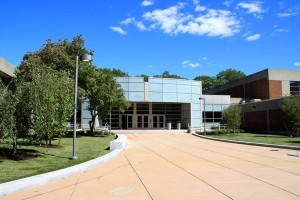 It's another sign of the increasing education disparity between Rhode Island's affluent suburban towns and its economically challenged inner cities: the East Greenwich School Committee is considering getting every student at the high school an iPad, while in Central Falls, Pawtucket and Woonsocket students sometimes share textbooks, taking turns getting to take them home for assignments.
"I don't disagree with you that there should be a better statewide technology funding program," said East Greenwich School Committee Chairwoman Deidre Gifford.
Elliot Krieger, a spokesperson for the state Department of Education agreed. In a statement he said, "We are aware that at present not all students have equal access to technology; one goal of the Funding Formula for aid to education is to ensure that all school districts receive adequate funding to educate all students. The formula is phasing in over a ten-year span."
EG Supt. Victor Mercurio pitched the idea to the school committee last week after a visit to a school district in Burlington, VT that had successfully used iPads as educational tools. "We tried to show the school committee that students would engage more deeply than they would with a book," Mercurio told me.
The high school, recently named to Newsweek's list of top 1,000 in the nation, already has about 60 iPads for students to use and the middle school has about 20, Mercurio said.
But in inner-city school districts such as Central Falls, Woonsocket and Pawtucket they still rely on the old-fashioned textbooks. And sometimes there aren't enough of those to go around.
Central Falls Supt. Fran Gallo said in some instances students from multiple classes will share the same text books. Teachers, she said, will stagger homework assignments so that each class can take the textbooks home at different times during the semester.
"Is that an ideal situation, no," said Anna Cano Morales, the chairwoman of the board of trustees, the state-appointed school committee for Central Falls. "But … it allows us to be a little more creative in how we teach our students."
Woonsocket and Pawtucket implement similar textbook-sharing programs, said Stephen Robinson, an education lawyer who represents all three districts as well as Portsmouth and Tiverton.
"I would suggest to you that this is the poster child for why what Commissioner Gist calls the best funding formula in the world is a fraud," he said. "If it were equitable, every school district could, if not give every students an iPad, at least give them each textbooks."
While RIDE says it is attempting to remedy such inequities through the new funding formula, Woonsocket and Pawtucket, represented by Robinson, are suing the state. Robinson said ten years is too long to fix the funding formula that RIDE has already said didn't adequately compensate those and other communities.
"The problem with the funding formula," said Robinson, "is it's not fair to the poor urban districts. The reality is Woonsocket does not have fiscal capacity to fund [education]."
Central Falls has not had the fiscal capacity to fund education since the early 1990's when the state was forced to take over. Meanwhile, in upscale East Greenwich, the school committee is also considering offering Chinese and Arabic classes. Across the Bay in equally affluent Barrington, the school committee there is considering selling slots at its high performing public schools to those who can afford to pay tuition.
While districts like East Greenwich and Barrington, where property taxes can support high quality education, thrive and adapt and even perhaps profit, schools in the inner cities in between the suburbs aren't making ends meet. Providence has closed schools, and in Central Falls schools are under state control. Woonsocket identified a $10 million deficit in its school budget.