The Environmental Justice League of Rhode Island (EJLRI) has created a brilliant position paper, "National Grid's Liquefied Natural Gas (LNG) Liquefaction Facility: Toxic Hazards in the Port Providence: Proposals for a Just Transition" that eviscerates National Grid's plans to build a new liquefaction facility for fracked LNG at Fields Point in South Providence. Over the next few days RI Future will be presenting the EJLRI's position paper in its entirety.
Potential Disasters: dangerous facility in a high risk area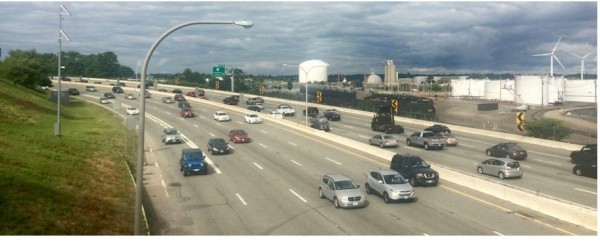 Despite what the gas industry says, LNG is a dangerous substance. Developing additional large scale LNG infrastructure in densely populated urban areas, and particularly at Fields Point in the Port of Providence, poses a number of risks for potential disasters. This following section is an abbreviated summary of some of the risks and potentially dangerous scenarios. The gas industry is quick to state that LNG isn't flammable or explosive, and that it isn't stored under pressure. This is somewhat t​rue, but it's a dangerous half ­ truth. LNG is stored at very cold temperatures (under ­260°F), in double shelled containers without any air present. In these conditions, LNG is in stable liquid form and without air it is not flammable.
The potential dangers with LNG occur if something goes wrong and it leaves these conditions. At any temperature over ­260°F it begins to boil and convert to methane gas, which causes it to expand by 600 times. At these temperatures, any sealed container would become rapidly pressurized. If LNG spills and begins mixing with air, it does become flammable between concentrations of 5 – ­15 percent gas to air. For comparison, propane is flammable at concentrations of 2.1 – ­9.5 percent, gasoline is flammable at 1.3­ – 7.1 percent. As leaking or spilled LNG boils and expands, at first it presents ​hazards of cryogenic freezing (​due it's very cold temperature) and asphyxiation ​(due to it being heavier than air, displacing oxygen). If the expanding LNG cloud comes across an ignition source with enough air mixed in, it would become a​ pool of fire that can ignite back to the source of the spill.​ If the spilled LNG is pressurized (for example during the re-­vaporization process, when LNG is converted back to gas to re-inject in to the grid), it can cause a jet fire. If a vapor cloud of boiling and expanding LNG occurs within a confined structure, and catches fire, it can become over pressured and potentially explosive. Ignition of pressurized liquids can cause a BLEVE: Boiling Liquid Expanding Vapor Explosion.​​ (See here and here)
Relevant Past LNG Disasters
Washington State: March 31st, 2014
​A rupture in one of the "pressure vessels" next to an LNG storage tank was cited as the cause of an explosion that injured 5 workers, sent 250 pound fragments of steel shrapnel flying over 300 yards, punctured a double shell LNG storage tank, and caused an evacuation of people within two miles from the LNG storage facility. "B​enton County sheriff's Deputy Joe Lusignan said Wednesday that it was 'a little bit of a miracle' that no one was killed. 'It was an extremely powerful explosion, the initial explosion,' he said. 'Fortunately, we didn't have any subsequent ones after that.'" The blast caused an evacuation within a 2 mile radius, far larger than the half­ mile area that National Grid is considering for impacts in Providence. Luckily, the area in Washington was sparsely populated, with only 1000 residents and agricultural workers evacuated, whereas a 2 mile radius from the LNG tank in Providence has a population of close to 80,000 people, which doesn't include additional people at work, school, or in RI Hospital and trauma center. According the Reuters, the LNG blast in Washington "could focus attention on the risk of storing massive gas supplies near population centers."​
Skikda Algeria, January 2004
The port city of Skikda, Algeria suffered an explosion and deadly incident at an LNG Liquefaction Facility. A steam boiler exploded "after it probably drew flammable vapors from a hydrocarbon refrigerant leak into its air intake. This triggered a secondary, more massive vapor cloud explosion destroying a large portion of the plant. The incident killed 27 people, injured 74, and created an $800 million loss." In the U.S, the 2004 incident spurred increasing opposition to LNG import facilities being proposed at the time. In response, "energy industry executives and regulatory officials have pointed out that the explosion in Skikda [was] attributed to a boiler that is not expected to be part of LNG terminals in the United States, which are to be used for warming liquefied gas back into a vapor, then storing it. The Skikda plant did the opposite, chilling natural gas until it condensed into a liquid." National Grid's proposed Liquefaction Facility in Providence would perform the same function as the Skikda plant in Algeria.
LNG Facility in Providence Denied in 2005 due to safety risks ­
I​n 2005, FERC denied an application from Keyspan (now National Grid) to expand the existing Fields Point LNG storage tank into an LNG import facility. FERC Commissioner Nora Brownell stated that the proposal was turned down because of safety risks and the "very real concerns made by the residents in communities and all of the towns nearby." The "Commission staff concluded that the KeySpan LNG conversion project would not meet current federal safety standards… [and] identified 75 specific environmental mitigation measures that must be met by KeySpan LNG and its accompanying pipeline project [CP04­223, CP04­193].
A report by former White House anti­-terrorism adviser Richard Clarke concluded that "urban import terminals, such as Fields Point LNG, would be vulnerable to "catastrophic" terrorist attacks, and also make "extremely attractive" terrorist targets."  In the detailed 159­ page report, Clarke details multiple scenarios in which an attack on the LNG facility in Fields Point Providence results in an LNG pool fire and catastrophic mass casualties. The comprehensive report detailed neighboring industrial and chemical facilities that would be impacted by a LNG fire, but said that further study would be needed to assess the additional risks posed.
High Risk Neighbor: Univar Chemical Facility ­
The proposed LNG Liquefaction facility neighbors a chemical facility owned by Univar, a multinational chemical corporation that also happens to manufacture chemicals for hydraulic fracturing ("fracking"). Fracking is a controversial process used in extracting natural gas from shale and other unconventional formations; the process has been banned in New York State due to public health concerns raised by the NY Department of Health. While it is unknown whether Univar's facility in Providence has a direct link with fracking, the facility is listed on EPA's Toxic Release Inventory due to onsite release 1,275 pounds of toxic chemicals in 2013. Chemicals listed on the EPA's Toxic Release Inventory database for the Univar site in Fields Point include but are not limited to:
1,1,1­TRICHLOROETHANE, ACETONE, AMMONIA, CHLORINE, CHLOROBENZENE, DI(2­ETHYLHEXYL) PHTHALATE, DIBUTYL PHTHALATE, ETHYLENE GLYCOL, FORMALDEHYDE, FREON 113, METHANOL, N,N­DIMETHYLFORMAMIDE, PHOSPHORIC ACID, SODIUM HYDROXIDE, STYRENE, TETRACHLOROETHYLENE, TOLUENE, TRICHLOROETHYLENE and TRIETHYLAMINE.
Former White House Anti­-Terrorism official Richard Clarke wrote in his 2005 report on LNG in Fields Point that,
In the event of a [LNG] pool fire, temperatures would be high enough to compromise chemical storage tanks. Univar workers handle such chemicals as chlorine, sodium hydroxide, hydrogen peroxide, and potassium hydroxide at the site. Chlorine leaks can be lethal. For example, a recent chlorine gas leak in South Carolina killed nine people and required evacuations for up to one mile from the site. We do not know all the effects of gas leaks on all these chemicals, or the potential consequences of explosion of these chemicals caused by high heat from an LNG pool ­fire. Additional research into the safety of this chemical facility is needed in assessing the risks posed."
14 mile hazard radius: 110,000 schoolchildren at risk ­
I​n 2014, the Center for Effective Government released a report titled "Kids in Danger Zones: One in Three U.S. Schoolchildren at Risk from Chemical Catastrophes" which investigated schools being located within the hazard radius of chemical facilities. Appendix III of the report shows the percentage of students in vulnerability zones, by state. ​With 67 percent of students at risk from a chemical incident, Rhode Island is ranked 2nd highest nationwide, ​ranking above both Texas and Louisiana which are both known for welcoming petrochemical facilities in busy Gulf of Mexico ports. RI's high chemical risk ranking is due almost entirely to the Univar chemical facility in Providence, adjacent to the proposed LNG Liquefaction Facility. Within the 14 mile hazard radius of the facility there are 311 schools with approximately 110,000 children.
Major Fuel Terminals and Fuel Transportation ­
T​he Port of Providence is the largest fuel port in Southern New England, and supplies oil products (gasoline, diesel, ethanol, jet fuel, etc) to all of Rhode Island, Eastern Connecticut, and Worcester County and South Coast Massachusetts. The fuels are transported in and out of South Providence by international tanker ships, heavy truck traffic, and and a railway line that travels between I­95 and Roger Williams Park and Zoo before connecting with the Amtrak and MBTA Commuter Train tracks in South Elmwood. Port of Providence has terminals operated by Sprague Energy, Global Partners LP, Enterprise Products (subsidiary of Duke Energy), New England Petroleum, and Motiva (a joint venture between Shell Oil and Saudi Arabia's Aramco). National Grid's LNG storage tank and proposed liquefaction facility is bordered by the Motiva terminal to the West and Northwest, and next to Global's terminal to the South and Southeast.
Given the close proximity of highly flammable and potentially explosive substances, an incident at one facility could trigger a secondary incident at a neighboring facility. An incident, whether caused by natural disaster, human error, equipment malfunction, or terrorism, could quickly spread and cause much larger incidents. The presence of pipelines, tanker ships, fuel trucks, storage tanks, and ethanol trains each pose individual risks, their concentration in close proximity multiplies the potential scenarios in which an incident could occur. The Thurbers Ave exit is one of the busiest set of highway ramps in Rhode Island, with sharp turns and confusing cross traffic patterns. This is the exit that the majority of truck traffic into and out of the port uses, including the LNG tanker trucks carrying "methane refrigerated liquid." A​ny potential accident, and the resulting disaster scenario, must be taken into consideration with National Grid's proposed Liquefaction Facility.
Ethanol "bomb" trains ­
E​thanol trains docking at the Motiva terminal are within the half mile hazard radius of the proposed Liquefaction Facility, and are directly adjacent to the sharp turn on I­95 by the Thurbers Ave exit. It is not unfathomable to conceive of a potential disaster involving a traffic accident with a fuel tanker or train car containing explosive ethanol or toxic chemicals traveling into or out of the port. In preparation for a potential incident, RI Department of Environmental Management and the City of Providence hosted a Tri­State HAZMAT Full­Scale Response Exercise on September 10th, 2011 focusing on a scenario of an ethanol train derailment at the Motiva terminal in Port of Providence, requiring both land­based and marine response teams.
According to the joint press release,"E​thanol is a highly volatile, flammable, colorless clear liquid and unlike gasoline, is completely soluble in water rendering containment boom and absorbent boom virtually useless during a release. More than two million gallons of denatured ethanol move through the Port of Providence area by rail, barge, and tractor ­trailer every week." In 2014, community groups in Boston organized against ethanol trains coming through densely populated neighborhoods and sharing tracks with MBTA and commuter rail trains. A​lternatives for Communities & Environment​(ACE), Chelsea Collaborative, and Chelsea Creek Action Collaborative successfully won a statewide legislative moratorium against the dangerous ethanol "bomb"trains. ​(See here and here)
Dangerous incidents occurring in the Port of Providence
The following are not just hypothetical scenarios to study, they have occurred in the past. Luckily, previous incidents have been contained and have not escalated to worst case scenarios, but that potential exists.
Lightning Strike​­
On July 19, 2006 lightning struck an oil tanker that was about to dock at the Motiva facility adjacent to National Grid's LNG tank. Associated Press reported that it resulted in a four alarm fire and that "every firefighter in Providence was on the scene." A truck driver parked nearby said he​"saw a bolt of lightning, followed by an explosion and a large fireball. [He] said he could feel the heat from the initial explosion several hundred feet away in a nearby parking lot. "I've never seen anything in the world like this," he said." EPA responded by setting up air quality monitors nearby to check for toxic releases of airborne pollutants.
Earthquake​ ​
On July 22, 2015 there was a 2.3 magnitude earthquake in Rhode Island which was felt in Johnston RI, and Bristol RI, and Fall River, MA. The epicenter was determined to be in the Port of Providence at Fields Point, the exact location of the existing LNG storage tank and proposed Liquefaction Facility. According to R.J. Heim, reporting for WJAR/NBC10, "t​he earthquake leaves many people wondering if it compromised infrastructure at the busy port or shake a cluster of fuel tanks located nearby." National Grid reported that their facility was not compromised, but questions remain as to whether the outcome would have been different if the Liquefaction Facility were in operation at the time, or if a stronger earthquake were to hit along the same fault line.
Hurricane ­
H​urricane Sandy was devastating for New York City and parts of the southern coast of Rhode Island, but luckily was not a direct hit on Providence. The Port of Providence is at sea level, and is on the wrong side of the Hurricane Barrier. A significant storm surge coming up Narragansett Bay would be blocked at the Hurricane Barrier, protecting downtown Providence that would cause additional surge and impacting the port. Of three major tidally influenced rivers that flow into Narragansett Bay in Providence, the Hurricane Barrier would block a storm surge from entering the Woonasquatucket or Moshassuck Rivers, displacing that excess water into the Blackstone River and the narrow top of the bay, where this heavy industrial port is located. A joint research project by University of Rhode Island, the RI Department of Transportation, and the Federal Highway Administration recognizes that "hurricanes pose a significant threat" and is undertaking a vulnerability assessment of infrastructure at the Port of Providence. However, most studies of storm impacts on the Port of Providence only consider the economic impact and how to make infrastructure more resilient; the impact on the communities of South Providence and Washington Park is often ignored.
Emergency Preparedness and Response
There are many potential disasters waiting to happen with the existing industries in Port of Providence, let alone with the proposed $100 million liquefaction facility. While there has been at least one disaster response exercise focused on the port, and a large quantity of specialized foam was purchased following the lightning ­induced fire at the Motiva terminal, neither of these initiatives relate to the specialized disaster response scenarios required in the event of an LNG or a secondary Univar chemical facility incident. Given the high concentration of facilities in the Port that store toxic materials, discharge pollutants, and/or require a chemical risk management plan, there are major questions remaining about what the overall disaster response plan is, who would be able to respond, and whether those  responders would have the proper training and equipment required.
Potential Disasters: dangerous facility in a high risk area

,