Mayor Jorge Elorza announced a new program that pairs inner city students with police officers as after school sports coaches. It's called PASS, or the Police After School Sports program.
"This is a great day for the city," Elorza said on Friday at Gilbert Stuart Middle School. "This is something … many folks have been talking about and working on for a very long time.
Elorza added, "Nowadays with the conflict we've seen in other cities, truly the cause of it is that the connection between the police and the community doesn't exist. But we're working proactively here in Providence to make sure we have those strong relationships, between our police officers, between the police department, and the community."
The PASS program is an initiative of PASA, the Providence After School Alliance, which was launched in 2004 by then mayor, now Congressman David N. Cicilline to provide quality after school programs.
PASS has 10 Student Resource Officers, or SROs, who have signed on to coach basketball and/or flag football for students from 5 different middle schools – Nathan Bishop, DelSesto, Esek Hopkins, Roger Williams and Gilbert Stuart.
Providence Police Chief Hugh Clements said officers are excited to work directly with students, stressing the importance of having police officers building relationships with students and in the community.
"And in this crazy world that's a good thing, that's really a good thing because we often times hear about bad interactions between the police and members of the community," said Clements.
"And that may happen somewhere along the line, but at least if they have a perspective," Clements continued. "They can say 'Yeah, but I know Officer Wheeler, or Officer Carvallo, or Torres, and you know what he's a good guy. I worked with him. I played ball with him before."
A former SRO himself, Clements said interacting with the students on a daily basis provides a balanced and positive feeling not only for the kids but for the officers as well.
"When you walk in a school, in a day room, in a basketball court, on a field, and you see a young boy or girl you know and there's a connection," said Clements. "There's no question, we as adults, we as police officers, walk away with a positive feeling, that day, that night and going forward."
The students pictured are members of After Zone, a program dealing directly with middle school students and providing them a range of opportunities. After Zone is completely free of charge for the students as well as provides transportation home, supper, and mentorship outside of school. After Zone is an umbrella program allowing students to experience a wide range of programs and activities such as: Downcity Design, Explore the Bay, and various dance, and hip-hop courses as well.
The PASA and After Zone programs are funded through the 21st Century Community Learning Centers Program, providing money to schools within impoverished areas and low-performing schools. Aiming to help the students, and the schools as a whole, meet core state & federal academic standards. Every year PASA works directly with over 2,000 middle school students in Rhode Island.
IGT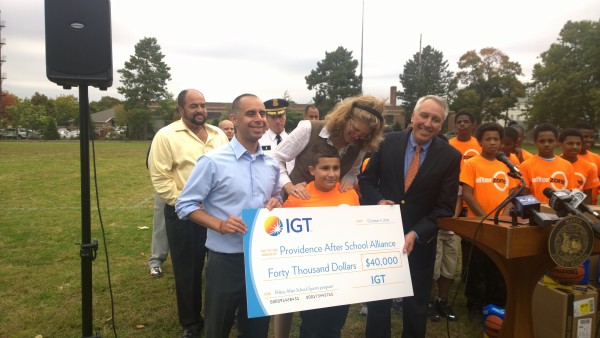 donated $40,000 for the development of the project and purchasing of equipment for the program. As well as the Providence Fire Department buying basketballs for PASS, the program aims to motivate and build community ties between students and the police department in Providence.
Formerly GTECH, IGT is headquartered in Providence and has been an active member of the Providence community, often times donating computers and other technology for libraries and schools alike.
"We knew from the beginning when we came to Providence. It's the neighborhoods is what makes the city great, and the kids in those neighborhoods…This is where we belong," said Robert K. Vincent, IGT senior vice president of human resources and public affairs.
Vincent joked that IGT "had the easy part," before ceremonially handing Mayor Elorza a large check, and explaining that Hillary Salmons, director of PASA, and the others involved had done the hard work to make the program a reality.