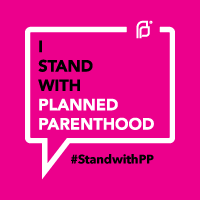 It's not unusual to see grisly signs and picketers outside the clinic. On Saturday, the Diocese of Providence and Rhode Island Right to Life sponsored a demonstration in conjunction with a national campaign to defund Planned Parenthood. 'Pro-life' is a brilliant slogan in its vagueness and transcendence. 'Pro-pregnancy' might be more accurate but that would get people thinking about all the complications that go with women's lives and the needs of the children they raise. I would call these people 'prohibitionists' because they want to make illegal a practice that won't stop with a law against it, but will, like alcohol in the Prohibition Era become much more dangerous and profitable to organized crime.
We counter-demonstrators stood across the street from the prohibitionists. They had signs made up in the same shade of pink used by Planned Parenthood. They had pictures of fetuses from which the woman was disappeared. They had a sound system, which mercifully did not go up to '11'. It was a nice, sunny day and standing on the sidewalk for two hours gives you time to think. I thought about how I would really like to be standing with the people on the other side of the street, talking about how to help young people learn about, as former Surgeon General David Satcher put it, responsible sexual behavior.
I'd like to talk to the prohibitionists about the benefits of sex education, and not just for young people. We could be grateful together that access to reliable contraception through the Affordable Care Act is helping to reduce the rate of unwanted pregnancies. I could tell them that their crisis pregnancy centers could be a real force for good if they came clean about their intentions and committed to really helping women who wanted to have a baby in difficult circumstances – help that would be needed even more after the baby is born.
But the Catholic Church is fighting in court to remove contraception from their employee's health insurance. The prohibitionists redefine contraception as abortion, claiming that a sperm might meet an egg and contrary to science and without any Biblical basis define that as pregnancy. And when the demonstrators across the street started a chorus of 'We Shall Overcome' I knew that the prohibitionists had redefined themselves as abolitionists. Somehow they co-opt the appalling suffering of millions of innocent women who labored in the agricultural prison camp known as the Old South. They casually appropriate the history of women who had no legal protection for their own bodies, whose fertility was a commodity and whose children could be sold away or abused in any way with no recourse. We have not even begun to repent as a nation for those sins, but let's not dwell on that when invoking Dr. King as if he would have endorsed the prohibitionist cause.
In fact, Dr. King was given the Margaret Sanger award by Planned Parenthood in 1966. Dr. King was not able to attend, so Coretta King accepted the award on his behalf and gave his speech, Family Planning – A Special and Urgent Concern.
Rosa Parks, whose political activism has been downplayed in the popular story of her bus protest was a supporter of Planned Parenthood and served on its Board of Advocates.
Margaret Sanger has been characterized as a racist, and some prohibitionists put out the appalling slur that 'The most dangerous place for an African-American is in the womb.'
What does this say to black women, whose rights have so often been denied, who have been blamed for every social ill that inequality brings? Misogyny, racism and social discrimination complicate what is already a crisis- an unwanted pregnancy.
The writer and activist, Angela Davis, affirms the right to contraception and abortion "when necessary," while holding our society accountable for forced sterilizations and other abuses inflicted on women of color. The label, 'pro-choice' goes both ways, including supporting women who want to continue a pregnancy and supporting the right of women to be fully informed and free of coercion.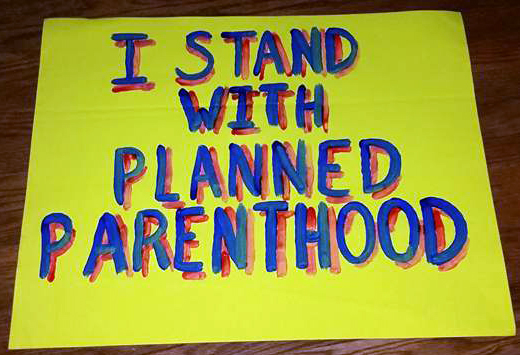 Faye Wattleton, past president of Planned Parenthood, was the first African-American, the first female and the youngest president of the reproductive health-care organization.
In 1966, Wattleton moved to New York City to attend Columbia University, where she pursued a master's degree in maternal and infant care. But it was also in New York City that, while completing an internship, she witnessed firsthand the suffering—and sometimes fatality—caused by illegal and unsafe abortions during an internship.
The womanist writer Audre Lorde, in her autobiograpy Zami-A New Spelling of My Name, tells her own story of the crisis facing her as a college student pregnant and abandoned.
Cheap kitchen table abortions. Jean's friend Francie had died on the way to the hospital just last year after trying to do it with the handle of a number 1 paintbrush. (p.107)
She was fortunate to find a competent nurse who safely terminated that pregnancy and she later married and had two children.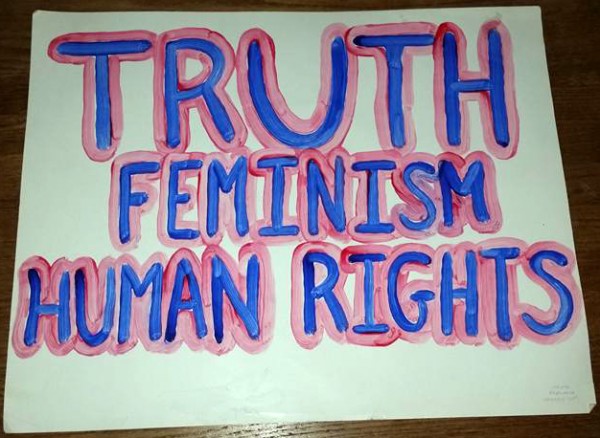 When I attended CCRI school of nursing in the late 80's the nurse lecturer recounted the desperate lies women told in the ER to try to get a D&C. She played it for laughs. No compassion there, but later in class a woman quietly spoke of her friend who injured herself so badly trying to terminate a pregnancy that she was left sterile.
Unsafe abortion is a major cause of injury and death to women worldwide. This was our past and we should not re-create it.
No freedom is absolute, but prohibitionists claim a moral right to override the conscience of the pregnant woman and impose their ideas of right and wrong.
The prohibitionists, in their mix of religion and politics, try to block access to contraception for the least privileged women. They are trying to shut down promising programs that are showing results in reducing unwanted pregnancy and abortion. Who profits from this situation, except politicians looking for an issue to inflame the base?
And the good people across the street in their zeal to outlaw abortion ally themselves with politicians who tax the poor to profit the rich. They may sing 'We Shall Overcome' but overcoming the inequality that actually does kill babies- with our shameful infant mortality rate, is not on their agenda.
It's no contradiction that Dr.King supported Planned Parenthood. He knew that blocking access to contraception prevents women and men from having agency over their lives. Prohibitionists are not the spiritual descendants of the abolitionists but the opposite- a regressive attempt to subject women to the dictates of the church using the power of the state.
Why anti-abortion activists are wrong to co-op 'We Shall Overcome'

,