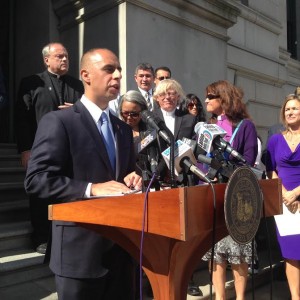 One day after a botched press conference on a similar subject, Providence Mayor Jorge Elorza brought together a big group of state and city officials, as well as advocates and activists, to announce a new plan to address panhandling, poverty and homelessness in downtown.
"As we see increased homelessness and increased panhandlers, this is a moment to look inside ourselves and ask ourselves what kind of community we want to be," Elorza said, speaking from atop the steps at City Hall. "Do we want to be the kind of community that cuts resources for mental illness or fails to invest in homeless shelters, or cuts resources for legal services for the indigent? Do we want to be a community that is not complacent in the face of inequality of income and wealth? Do we want to be a community that invests in affordable housing? Do we want to be a community that believes in workforce opportunities? And do we want to be a community that works to address the persistent challenges of racial injustice?"
He added, "We are not interested in simply relocating the issue. We are looking for lasting solutions that balance the rights of the people of our city. We are not going to benefit by pushing people from one street to another. What we are announcing here today is not just a plan. What we are announcing here today is an approach to work collaboratively, compassionately and creatively to make sure that no resident of our city or of our state ever gets left behind."
Elorza said the city will open a day center for homeless people, provide financial support for Amos House "A Hand Up" program, a jobs program for people who are homeless and/or struggling financially, and offering support to Emmanuel House's program for helping people with substance abuse problems. Police presence has already been increased in downtown – and Public Safety Commissioner Steve Pare said arrests have increased – and parking meter-like machines will be located downtown so people can give to social services rather than directly to another human being.
"Most importantly," said Elorza, "we will work with a broad coalition to advocate for the critical resources to provide for mental health, substance abuse, legal services and housing supports to our families and people in need – resources and funding we've seen reduced in recent years."
While Paolino's press conference yesterday relied heavily on the business community, Elorza's event featured several state and city elected officials. In attendance were state legislators: Maryellen Goodwin, Josh Miller, Edie Ajello, Aaron Regunberg and Grace Diaz as well as city councilor Mary Kay Harris, Wilbur Jennings, Brian Principe and Michael Corria.
"What we are talking about is 'One Providence'," said City Councilor Mary Kay Harris, who represents downtown Providence, echoing the Elorza's campaign theme. "One Providence includes the rich and the poor. It includes the poor working class and the workers altogether."
Eileen Hayes, the director of Amos House who champions the plight of people who are homeless, said, "Our fellow citizens are struggling, especially those who are homeless and do not have the financial resources to care for basic needs. Every single business community should find a way to offer a job to homeless person who wants to work. They are good people and they are good workers. We believe that we cannot criminalize behaviors based on people doing the best they can to survive without offering viable solutions including jobs and housing."
While Paolino's press conference was held at the Convention Center and was invite only, Elorza's was the steps of City Hall. Both were disrupted – Paolino's by angry activists and journalists who couldn't attend and Elorza's by a woman who said she needs more social services. Elorza's press event featured activists who advocate for the homeless, while Paolino's expressly kept many advocates from attending.
When Elorza was asked if he wished Paolino and more members of the business community attended his event he said, "I've had many members of the business community reach out and express their support for what we are doing and I look forward to continue working with anyone who truly wants to address the long term root cause issues."
Elorza announces plan to address root causes of poverty, panhandling

,